Legal Poker / Gambling Laws in Georgia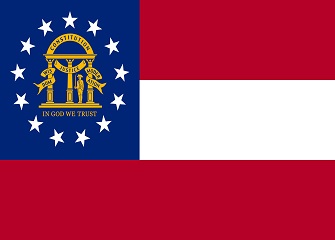 Georgia cracks our top 5 list for worst states for poker players. You won't find any legal real money alternative within the state; Georgia has no casinos, home game don't appear to be legal and when combined with the internet sweepstakes cafe crackdowns, we would guess that online poker isn't on the docket to be regulated.
That's Georgia poker law in a nutshell. But you can read on to get nitty-gritty.
Playing Poker Legally in Georgia
Is Online Poker Legal in Georgia?
No. Reading Georgia's laws makes this very clear. For example:
16-12-21.
(a) A person commits the offense of gambling when he:
(3) Plays and bets for money or other thing of value at any game played with cards, dice, or balls.
That includes poker, obviously.
I think their definition of gambling machines, when combined with their other laws, also deem online poker illegal.
16-12-20.
(D) Any video game machine or device, operated for any consideration, for the play of poker, blackjack, any other card game, or keno or any simulation or variation of any of the foregoing, including, but not limited to, any game in which numerals, numbers, or any pictures, representations, or symbols are used as an equivalent or substitute for cards in the conduct of such game.
16-12-28.
(a) A person who knowingly communicates information as to bets, betting odds, or changes in betting odds or who knowingly installs or maintains equipment for the transmission or receipt of such information with the intent to further gambling commits the offense of communicating gambling information.
The punishment for communicating gambling information is up to 5 years in prison, a fine up to $5,000, or both.
I think online poker is off limits in Georgia. Don't you?
What About Home Poker Games?
Running or participating in a home game in Georgia could land you in trouble, too. In addition to the (general) passage regarding the offense of gambling (mentioned above), it's important to consider Georgia's law regarding "gambling places."
(3) "Gambling place" means any real estate, building, room, tent, vehicle, boat, or other property whatsoever, one of the principal uses of which is the making or settling of bets; the receiving, holding, recording, or forwarding of bets or offers to bet; or the conducting of a lottery or the playing of gambling devices.
... and ...
16-12-22.
(a) A person commits the offense of commercial gambling when he intentionally does any of the following acts:
(1) Operates or participates in the earnings of a gambling place;
You can get in trouble for both running a poker game and participating in one.
You can't win. And is why we feel Georgia is one of the harshest states for poker players. Even in other states that have no poker rooms, casinos or betting, you can still play poker in a social setting as long as no one makes money from the rake or house fees.
But not here.
Do Casinos in Georgia Offer Poker?
You're not going to find any kind of casino or land-based gambling establishment in Georgia. The only option you have is to go to another state, or try a casino cruise liner like the Emerald Princess. These ships offer casino games as well as poker.
Georgia Poker FAQs
We get a lot of questions regarding the legality of poker and other types of gambling in Georgia. We thought it'd be helpful to post those here.
Will online poker be regulated in Georgia?
No, not when you consider how strict they are about gambling right now.
Furthermore, like Florida, Georgia has targeted and cracked down on internet (sweepstakes / gambling) cafes. So I wouldn't expect them to be passing laws for intrastate poker any time soon. In fact, I wouldn't be shocked if Georgia made it illegal.
Is there an online poker room that accepts players from Georgia?
Surprisingly, it's still possible for Georgia players to find and play at poker sites online. Unlike the other strict states that prohibit players from even signing up (for fake or real money games), you'll be able to play anywhere that accepts US customers. A few of these sites include Bovada, BetOnline and Sportsbetting Poker.
What other forms of regulated gambling is offered in Georgia?
The only form of gambling in Georgia is their state lottery. Everything else is prohibited.
Where can I read more about Georgia poker laws?
You can read more about Georgia's (strict) poker laws here:
Georgia Poker Factoids
Here are some interesting facts about Georgia gambling.
Georgia residents are able to regain gambling losses through the legal system. You have up to 6 months to do so. Following the 6 months ANYONE can attempt to regain the original gambling losses. If won, the proceeds will be split between the winner and the Georgia school system.
13-8-3
(b) Money paid or property delivered upon a gambling consideration may be recovered from the winner by the loser by institution of an action for the same within six months after the loss and, after the expiration of that time, by institution of an action by any person, at any time within four years, for the joint use of himself and the educational fund of the county.
Steve Loube is the only resident from Georgia to win a bracelet. He won it during the 2012 WSOP.
Additional Gambling Law Reviews