Legal Poker / Gambling Laws in Indiana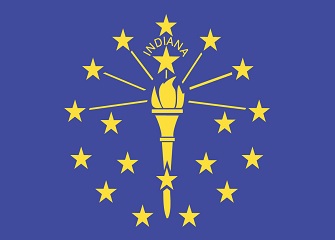 Indiana appears to be mixed regarding poker and gambling in general within state lines. On one hand residents are able to participate in various poker games at one of 10 or so casinos in the state. On the other hand, other forms of gambling are illegal which includes online poker and home games. Are there any loopholes to exploit? That's what we cover in more detail below.
Playing Poker Legally in Indiana
Is Online Poker Legal in Indiana?
Indiana was one of the first states -- not to mention is one of the only states -- to specifically mention online gambling. It's clearly illegal under their laws, for both operators and players.
IC 35-45-5-3 Professional gambling; professional gambling over the Internet Sec. 3.
(a) A person who knowingly or intentionally:
(5) conducts any banking or percentage games played with cards, dice, or counters, or accepts any fixed share of the stakes therein; or
(6) accepts, or offers to accept, for profit, money, or other property risked in gambling;
commits professional gambling, a Class D felony. However, the offense is a Class C felony if the person has a prior unrelated conviction under this subsection.
(b) An operator who knowingly or intentionally uses the Internet to:
(5) conduct any banking or percentage games played with the computer equivalent of cards, dice, or counters, or accept any fixed share of the stakes in those games:
(A) in Indiana; or
(B) in a transaction directly involving a person located in Indiana; or
(6) accept, or offer to accept, for profit, money or other property risked in gambling:
(A) in Indiana; or
(B) in a transaction directly involving a person located in Indiana; commits professional gambling over the Internet, a Class D felony.
So you can't play at poker sites in Indiana.
There is another important point to takeaway here, too. Poker staking is likely to be illegal, too, because Indiana laws mention "transactions directly involving a person located in Indiana." So if you stake players to play poker, either live or online, I would stop and double check with your lawyer before continuing.
What About Home Poker Games?
Indiana mentions nothing about home poker games or social games. However, I would assume it's illegal, too.
"Gambling" means risking money or other property for gain, contingent in whole or in part upon lot, chance, or the operation of a gambling device; but it does not include participating in:
(1) bona fide contests of skill, speed, strength, or endurance in which awards are made only to entrants or the owners of entries; or
Card games, under Indiana law, are considered to be games of chance, and therefore fall under the unlawful gambling laws.
Do Casinos in Indiana Offer Poker?
You'll find over 13 casinos in Indiana that offer any game you'll find in Las Vegas. This includes slots, craps, blackjack, roulette and mini-baccarat. Poker games include holdem, omaha, stud and more, as well as WSOP circuit events. Two popular casinos include Blue Chip Casino and the Majestic Star.
Indiana Poker FAQs
We receive a lot of questions about state poker laws, and more specifically, the gambling laws in Indiana. We thought it'd be helpful to post those here for you.
Will real money online poker be regulated in Indiana?
Since their current gambling regulation laws that were set in 2005, Indiana has not put forth any more effort into new online gaming laws. Experts and other poker webmasters alike think that Indiana agreeing with neighboring states (for intrastate poker and casino gaming) is a real possibility in the near future.
Is there an online poker room that accepts players from Indiana?
Surprisingly, yes. Considering how strict Indiana appears to be about online poker and home poker games, you'd think that US poker sites would exclude residents from signing up like they do all the other strict states. However, that's not the case. You're still able to sign-up to (nearly) all US accepting poker sites, such as BetOnline, Bovada, Carbon Poker and Americas Cardroom.
What other forms of regulated gambling is offered in Indiana?
Everything.
More specifically, between their land-based and riverboat casinos you'll find a variety of games including craps, roulette, poker and blackjack. Slots and off/on track horse racing is available, too, as is a state lottery.
Where can I read more about Indiana poker laws?
More information about Indiana's gambling laws can be found at the following poker sites:
Indiana Poker Factoids
Here are some interesting facts about gambling and poker in the state of Indiana.
The law regarding gambling riverboats originally prohibited them from operating casinos games while docked. Now you'll find that all riverboats are docked.
The original law allowing gambling riverboats required that they "fairly replicate nineteenth century Indiana steamboat passenger vessels" if they were to operate on the Ohio river.
ISPs have the right (by law) to block emails that pertain to online poker and gambling.
IC 35-45-5-4.6 Blocking certain electronic mail messages
Sec. 4.6.
(a) An interactive computer service may, on its own initiative, block the receipt or transmission through its service of any commercial electronic mail message that it reasonably believes is or will be sent in violation of this chapter.
(b) An interactive computer service is not liable for such action.
Additional Gambling Law Reviews