William Hill Fined £6.2M by UK Gambling Regulator
Friday, February 23rd, 2018 | Written by Adam Brown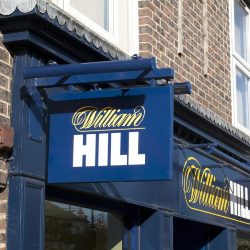 The United Kingdom Gambling Commission (UKGC) has just handed William Hill a massive £6.2 million fine following an investigation which revealed that the company's systemic senior management had consistently failed to prevent money laundering at its high street bookmakers. In addition, William Hill was also penalized for failing to recognize and adequately protect its potentially vulnerable customers.
UKGC Investigation
The UKGC's investigation of William Hill covered the period from November 2014 to August 2016, with the regulatory body subsequently finding that the operator had fallen short of its social responsibility obligations, as well as its duty to prevent money laundering. During that time, the UKGC found that 10 of its customers were permitted to deposit significant amounts of money connected to criminal activity, from which William Hill then made £1.2 million.
According to the UKGC, William Hill's staff did a poor job checking on the source of the money being deposited, and of identifying whether its customers were problem gamblers, especially considering the ample number of staff employed to handle such matters.
Inadequate Vetting
Examples of the customers who William Hill failed to adequately screen includes:
• A customer earning £30,000 per annum depositing £654,000 over a 9 month period without William Hill looking into the source of their funds.
• A customer also earning £30,000 a year convincing a William Hill employee over the telephone that he his income was £365,000, thus enabling him to deposit £541,000 over 14 months. In actual fact, he was stealing money from his boss in order to fund a gambling habit.
• A customer whose was able to deposit hundreds of thousands of pounds with the firm over six months, despite their account being flagged with financial alert in a debacle that the UKGC described as a "system failure."
• A customer identified by William Hill's systems as potentially having a gambling problem being allowed to deposit and lose around £147,000 over 18 months, with the company having merely sent out a handful of "social responsibility" e-mails, which was subsequently deemed insufficient by the UKGC.
£6.2M Fine
As a result of its failings, William Hill has been slapped with a £6.2 million fine by the UKGC, representing the regulatory body's second biggest penalty to date, with its biggest being a £7.8 million fine handed to 888 last year.
The £1.2 million part of William Hill's fine is directly linked to the money that it made from the 10 specific customers mentioned, some of which may be returned to these customers. The remaining £5 million amount, however, is a straight-forward penalty, which could even increase further if more failings subsequently come to light.
Commenting upon the situation, Neil MacArthur, executive director of the UKGC, stated that his organization would continue using the full range of its enforcement powers to ensure gambling in the country is fairer and safer. He also said that the size of the fine reflected the "seriousness of the breaches" committed by William Hill.
"Gambling businesses have a responsibility to ensure that they keep crime out of gambling and tackle problem gambling – and as part of that they must be constantly curious about where the money they are taking is coming from," explained MacArthur.
Unfair Promotions
William Hill CEO Philip Bowcock has acknowledged the findings discovered by the UKGC, and emphasized that his company had fully cooperated with the regulatory throughout the whole investigation.
"We will continue to assist the Commission and work with other operators to improve practices in the areas identified," explained Bowcock.
In the meantime, the recent piece of bad publicity for William Hill comes less than a month after the UK Competition and Markets Authority [CMA] ordered William Hill, Ladbrokes, and PT Entertainment to cease offering misleading, and predatory promotional offers. Any failure to respect the mandatory agreement could then result in a formal prosecution via the UKGC, with the CMA also hinting that other UK-facing firms may also currently under investigation. Needless to say, William Hill currently seems to walking on thin ice as far as its social responsibilities are concerned, and will now have to tread extremely carefully if it is to avoid further penalties which might prove even more damaging by the UK's regulatory body.