Wendy Freedman Become First Woman to Win HPT Main Event Title Since 2013
Home
»
Poker News
» Wendy Freedman Become First Woman to Win HPT Main Event Title Since 2013
Wednesday, September 26th, 2018 | Written by Stephen Smith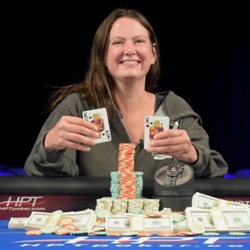 Wendy Freedman is one of the most talented women's player on the live tournament circuit, and has been a consistent winner since booking her first cash back in 2012. This week, she also recorded a piece of poker history after becoming only the second woman to win a Heartland Poker Tour (HPT) Main Event title, and the first woman to do so since 2013.
HPT Black Hawk Main Event
The Heartland Poker Tour Black Hawk $1,650 Main Event attracted 496 players to create a prize pool of $729,120. Amongst the notable pros taking part in the contest and seeing a return on their buy-ins was Chris Tryba in 41st ($3,427), Max Young in 36th ($4,229), Cord Garcia in 27th ($5,177), and Ben Keeline in 21st ($5,177).
After the final table was reached, Freedman eliminated Rich Alsup in 8th place, before being dealt pocket nines and sending Chris Barrett (8-8) to the rail in 6th. Freedman followed up by taking care of Corey Zedo in 5th, and Paul Richardson in 3rd to take a 2-1 chip lead against Mark Morris into heads-up.
Its conclusion came swiftly, though, with both players moving all-in holding pairs, but with Freedman's kings up against the eights of her opponent. There was a slight sweat after the first card dealt was an eight, but the second card was a king, while a 5 completed the flop. A five and ace were subsequently dealt on turn and river to seal Freedman's famous victory.
Final Table Results
1: Wendy Freedman $167,696
2: Mark Morris $102,514
3: Paul Richardson $67,954
4: Alex Greenblatt $47,247
5: Corey Zedo $35,362
6: Chris Barrett $27,342
7: Shawn Roberts $22,238
8: Rich Alsup $18,228
9: Carl Oman $14,582
Freedman's Winnings Pass $1 Million
Following her HPT win in Colorado, Wendy Freedman now boasts $1,104,574 in career earnings, lifting her from 40th to 31st on the 'Women's All Time Money' list. Furthermore, she has amassed $290,828 in winnings in 2018 alone, making it by far her most successful year to date.
During her time as a poker professional, Wendy Freedman has captured two WSOP Circuit rings, including in 2013 at the WSOP Circuit Bicycle Casino for $22,545, and at the 2018 WSOPC Planet Hollywood for $11,423. Last year, she also finished runner-up at the WSOPC Southern Indiana Main Event for $86,464, which prior to her recent success represented her biggest score to date.
Women's All Time Money List
Vanessa Selbst is currently the world's number one women's player with a staggering $11.85 million in winning and three WSOP bracelets to her name, followed in second place by fellow WSOP bracelet winner Kathy Liebert with $6.22 million, making her Tennessee's top earner, no matter of gender. Next is Annie Duke on $4.27 million, also making her Oregon's number one player, while in 4th place is Norway's Annette Obrestad ($3.94m), who stunned the poker world in 2007 after winning the inaugural WSOP Europe one day before her 19th birthday. Rounding off the top five is another overseas player, the UK's Liv Boeree, who has amassed $3.57 million in earnings and this year picked up a career first WSOP bracelet in the $10,000 NLHE Tag Team Championship, together with her boyfriend Igor Kurganov.
Women Participation Levels Down
Wendy Freedman's victory comes at a time when the industry has been exploring ways in which to bring more female players into the game. Women usually comprise only a small percentage of poker tournament fields, and over the years the situation doesn't seem to have changed much.
At this year's World Series of Poker, for instance, numerous records were broken across a range of different categories, including an impressive 123,865 players attending the 50-day poker festival in Las Vegas. One exception, however, was female participation in the Series, which for the Main Event dropped to just 4.86% of the field, representing its lowest level since official data was first compiled back in 2014.
Women's Poker Summit
In August, the first Women's Poker Summit was subsequently held at the Bicycle Casino in Bell Gardens, California, whose purpose was to explore ways in which to boost female participation in the game. The meeting was hosted by the World Poker Tour, and as the organization pointed out women comprise only a minute proportion of tournament fields, despite accounting for around a quarter of the audience tuning in to televised WPT tournaments, or playing the free social poker game Zynga Poker.
At least three factors have been cited for women's low participation levels in poker tournaments, including an unwelcoming environment, challenging and demanding time schedules, as well as an unfriendly environment for newcomers entering the game. As WSOP Tournament Director Matt Savage commented after the conclusion of the 49th annual tournament series:
"Until we can make the poker environment more player friendly, and women made to feel comfortable and unintimidated, we are doing an extreme disservice to women and our game."