The UK's Most Sports Obsessed Regions
Tuesday, October 10th, 2017 | Written by Stephen Smith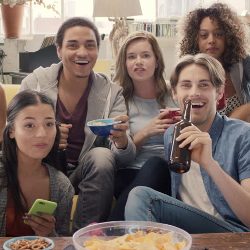 OnePoll conducted a study recently to get a clearer idea of the UK's favorite sports, as well as the nation's overall physical health. The report surveyed a total of 2,000 people spread out across 12 different regions in the country, with the questions asked including what sports these folks liked to watch on TV, what food and drinks they enjoyed while watching these games, and the amount of exercise they took on average each week. The conclusion drawn up by the study were quite revealing, too, and did not paint a particularly rosy picture of the general health of some regions in the UK.
Furthermore, according to the survey, most people in the over 40s category enjoy nothing more than staying home, and either playing games on their computer or watching sports on TV. In fact, around 50 percent of participants stated that they watched sports regularly on TV, with more than 10 percent of those saying that they watch roughly five to six hours of televised sports each week. This is similar to someone watching four soccer games every seven days.
Regions
Of the different regions surveyed, London headed the list with 73 percent of participants admitting to watching sports on a regular basis each week. The Northeast was not far behind on 70 percent, either, a statistic which was also mirrored in the responses of individuals living in Wales and Scotland. At the other end of the scale, however, were those living in East Anglia and East Midlands, with just 58 percent of these people saying they watched sports on television regularly.
Sports
Football games were the most popular choice of sports to follow, with 55 percent of people stating that this was the sports they most watched on TV. Surprisingly, tennis then came in as the second most popular choice, outranking other sports that one might guess to be an even bigger hit, such as cricket, rugby, or golf. Rugby did do considerably better in Wales, though, although football still continues to be the country's national sport.
Food and Drink
When it comes to what foods and drinks are consumed while watching televised sports, the answer was not at all that surprising with beer being named as the main beverage of choice by 27 percent of those surveyed. The next most popular drink was wine at 15 percent, while cider was named by 13 percent of participants, with the majority of cider drinkers hailing from the South West.
In terms of food, it appears a person's favorite snack is strongly influenced by their age and gender. If a person is over 65 years, for instance, healthier options such as eating fruit are preferred. Similarly, men are 20 percent more likely to consume crisps than women, while women are 70 percent more likely to consume nuts than men. In terms of takeaways, London once more topped the list with an astonishing 59 percent of respondents saying that they ate at least one takeout meal each week. By contrast, 61% of people based in the South East, South West, and East Anglia said that they did eat a takeout meal at all throughout the week.
Exercise and Health
Heading the list of healthiest regions was Yorkshire, with 95% of respondents saying that they exercised for over three hours per week, followed just 1% behind by Londoners. As far as the most amount of hours spent exercising is concerned, 17% of people from Scotland said that they exercise for over 9 hours each week, while in the Midlands 25% of people said that they never worked out at all.
Meanwhile, the UK's biggest smokers haled from Northern Ireland, the North East, and London, with 28-30% of people saying that they smoked cigarettes regularly. That number then fell off off to between 16% and 17% for those living in Wales, the Southwest and East Midlands.
Wellness
Overall, the study concluded that people living in Wales and the Southwest enjoyed the healthiest lifestyles, with between 96-98% of those classed as non-smokers exercising for more than three hours every week. The Northern Irish, by contrast, are the unhealthiest, which is hardly surprising as 60% of adults in Northern Ireland are considered obese.