The Surging Interest In Fantasy Sports Stateside
Monday, December 29th, 2014 | Written by Lucy Brown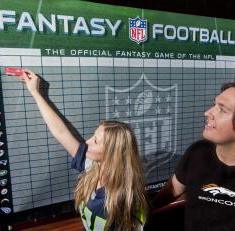 Over the past twenty years, fantasy sports have become a cultural phenomenon in the USA with billions of dollars wagered each year by people pretending to be the managers of imaginary teams across such popular sports as football, basketball, and baseball. While sports gambling in the US is illegal everywhere except Delaware, Montana, Oregon, and Nevada, an estimated 41.5 million Americans continue to bet on fantasy sports raising the questions whether the past time should actually be considered gambling.
A Loophole In The UIGEA
While the Unlawful Internet Gambling Enforcement Act (UIGEA) of 2006 outlawed gambling over the internet, effectively shutting down online poker in the USA, a special carveout was included for  fantasy sports which left the legality of the game for individual states to decide. At the heart of the legislation was that games of chance, of which poker was included, were considered illegal, whereas games of skill, including fantasy sports were permissible. As Femi Wasserman, VP of communications for daily fantasy website DraftKings, explains:
"The law included a carve out that clarified the legality of all fantasy sports. The real difference is that fantasy sports are a game of skill."
Since the 2006 UIGEA passed, however, new formats of the game have been developed in which players can both win and lose huge amounts of money over the period of a whole season, or even on a single day as bets are available on single-day fantasy leagues.
Fantasy Sports A Game Of Skill?
Nevertheless, players remain adamant that fantasy sports betting is a practice separate from pure gambling and should rightfully be treated as such. One such player is Boston resident Robert Gomes, 25, who recently wagered $1,000 with his brother on a DraftKings contest, before scooping a massive $1 million prize. Expressing his opinion on the issue, Gomes said:
"It's definitely different than gambling. A lot of homework goes into it. When the market prices come out on DraftKings, I know all their values by Monday night. You're constructing a team like a GM. It's not like I'm just throwing money on the Patriots and hoping they win."
Surge In Popularity
In 2013, US players spent $160 billion on illegal sports betting , a figure that is 44 times bigger than the amount wagered on legal gambling in Nevada. The huge sums involved obviously represents a massive opportunity for fantasy platforms, with even professional sports leagues and sports broadcasters getting in on the act by offering in-depth analysis and fantasy sports advice during shows. Explaining the situation, DraftKings' Femi Wasserma said:
"Professional sports have become more social, allowing fans to engage with the teams and players they are passionate about. Many NFL, MLB, and NBA teams have recognized that fans in the stadium are participating in fantasy sports and have partnered with us to provide them with the most up-to-date information."
With such strong support coming from sports networks, it seems highly improbable that Congress would try shutting down the thriving fantasy sports industry, although concern has begun to mount over an uptick in addictions associated with fantasy sports betting. Already five US states have tackled the perceived dangers of fantasy sports by banning real money versions of the game, including Arizona, Iowa, Louisiana, Montana and Washington.
A Question Of Legality
Despite fantasy sports being exempt from the UIGEA, that alone does not make the game legal, and it is still required to comply with all the other federal and state laws. Complicating the question of its legality, however, is the fact most US states haven't managed to keep up with recent developments in the industry, such as a number of smaller websites beginning to offer simplified versions of the game which appear indistinguishable from pure gambling, such as betting on which of two running backs makes the most yards in a game. It would be hard to argue that such picks come under the category of games of skill, and besides the UIGEA states that no winning outcome should be based upon either the score, pointspread, or performance of any real world team. As Tony Cabot from law firm Lewis Roca Rothgerber, explains:
"To my knowledge, most of the major sites do their homework. Any site that does this, before they offer it, ought to know what the standards are and ought to have done the necessary statistical work to justify that the games they're offering are games of skill. By and large, the industry leaders do a really good job at that."