The Impressive Fortune Change of Asian Based Casinos
Home
»
Poker News
» The Impressive Fortune Change of Asian Based Casinos
Tuesday, January 10th, 2017 | Written by Adam Brown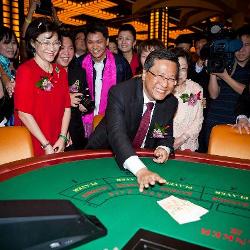 2016 proved an interesting time for Asia's gambling operators, and marked a year in which Macau's casino market finally returned to growth. In the meantime, the Philippines has seen its casino market go from strength to strength; India's gaming industry is coming of age, while Asian casino firms have started to extend their presence in Europe.
Macau Returns to Growth
About four months ago, the opening of the Parisian and Wynn Palace in Macau marked a turnaround in the financial performance of the world's biggest casino market after having experienced a 26 months long slump. Since then both operations have been experiencing solid profits, clearly showing that they did a fantastic job in appealing to their target audiences.
Initially, it was Wynn Palace that was expected to create the most excitement, but in the end it was Parisian Macau's opening that made the more impact. In fact it made the biggest impact within the whole region as its operation mainly targetted mass market gamblers, as opposed to Wynn Palace which has primarily gone after high rollers.
The Philippines
After failing to meet financial expectations in 2015, Philippine casinos also experienced a major turnaround in 2016. What is believed to have caused the remarkable development is the country's continuing economic growth, as well as a huge uptick in the number of Chinese visitors. The integrated resort of Solaire was among those gambling operators who enjoyed an unprecedented 2016, with its revenues soaring to a record high of $557 million. Even the country's other operators ended the year with impressive gross revenues, including Pagcor, Genting, Resorts World Manila, and Melco Crown which operates the City of Dreams Manila.
India
India's casino market made great strides in 2016, with the industry's expansion pushed forwards by the massive profits being declared by several casino operators. In fact, according to a report released by Global Market Advisors last April, India's potential gaming market could be worth as high as $10 billion, and as an article published by Muhammad Cohen on Forbes explained:
"Name an Asian country with a billion-plus population, a rapidly expanding middle class, a propensity to gamble and virtually nowhere to do it at home. Think again; the country described above is not only China, but India."
Currently, however, the sub-continent has legal casinos in just two states, namely Goa and Sikkim, both of which saw new casinos emerge during 2016.
Expanding into Europe
The European casino market is currently estimated to be worth $10.5 billion, giving it an 8% share of the world's overall market. However, the continent accounts for a mere 1% of a high-roller segment worth $22 billion, compared to Asia with an 85% share. Nevertheless, a few developments occurred in 2016 which signals Europe's growth potential going forward:
England
Asian casino companies have started to expand their operations into Europe, with one example provided by Chinese firm Landing International which in April acquired Les Ambassadeurs Club, a casino located in the plush Mayfair area of London. To attract mostly Asian high rollers whilst discouraging small time players, Landing subsequently raised the casino's membership fees, and also increased its table game limits.
Cyprus
Hong Kong company Melco Crown won the bid to establish a world class integrated casino resort on the Mediterranean Island of Cyprus. This project takes on bigger dimensions when one considers that up until now Europe still hasn't built any integrated resorts, and basing one in Cyprus has the potential to attract visitors from all over the world, especially from both the Middle East and Europe. As a statement released by Melco International subsequently explains:
"Lacking integrated casino resort alternatives in the Europe and Middle East region, we perceive significant market potential in Cyprus and believe it can attract visitors from the region that consists of large and wealthy populations in many proximate countries."
Monaco
In the meantime, to further underscore the Asia to Europe trend, Galaxy Entertainment owns about 10 percent of Monaco's casino market.
Disneyland Concerns
In 2016, Asia opened its third Disneyland resort, this time in the Chinese city of Shanghai. Nevertheless, the $5.5 billion theme park opened at a time when Macau's fortune had plummeted, and analysts expressed concerns that Disneyland Shanghai could end up drawing away more of Macau's customers, thus further worsening its situation. Nevertheless, all fears were laid to rest when Macau bounced back in grand style in the second half of the year.
That said, Macau's financial standing would still be strengthened further by its diversification into leisure and tourism. Consequently, Macau still has to be vigilant in order to retain its Chinese consumers, as competition for their discretionary income spending keeps on increasing.