The Fragmented State of New Jersey's iPoker Industry
Home
»
Poker News
» The Fragmented State of New Jersey's iPoker Industry
Wednesday, February 15th, 2017 | Written by Stephen Smith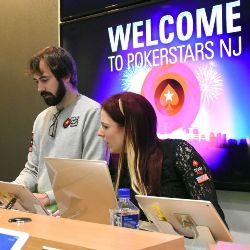 PokerStars has certainly changed the online poker industry in New Jersey. Since the site began legally operating in the Garden State last year, PokerStars has managed to gain a sizable market share and to bring in millions of dollars in gross gaming revenue; but, has the addition of a third site to the market helped or hurt the industry? Let's take a closer look at the state of online poker as it now stands.
1. Cash Game Liquidity
Although PokerStars has attracted players, the site has not managed to increase liquidity in the market by any significant amount, and overall, cash game traffic was up by just 5 percent for the month of January. While PokerStars does not emphasize cash games as much as other sites, the truth is that New Jersey simply does not have a large enough population to support high levels of liquidity. That's why sites like Betfair and Ultimate Poker couldn't survive in the Garden State.
While it's a big achievement that PokerStars was able to gain considerable market share without causing a huge downturn in cash game liquidity; on the other hand, the current fragmented state of the market could eventually result in frustrated players logging out of the sites, or completely abandoning cash games.
2. Revenue Is Up
PokerStars has helped to increase overall gross gaming revenue in the Garden State. Based on last year's numbers, it's safe to estimate that the arrival of the site has increased online poker revenues by somewhere between 7 and 14 percent. While that uptick may be modest, it is still very significant, considering the fact that the poker market had been rather stagnant before PokerStars emerged on the scene. Although some of the revenues that PokerStars have brought in have been cannibalized from its two competitors, it's obvious that the site has attracted some new players from the limited population in New Jersey.
3. Tournaments Are Doing Well
More tournaments have been underway on all three of the sites in New Jersey and participation in these events has been good overall. Even when two tournaments were held simultaneously on two different sites, there was a good turnout. Provided that operators are smart about marketing and strategic about when events are held, the tournament system is likely to remain a profitable source of revenue in the New Jersey market.
Conclusions
Overall, PokerStars entry into the New Jersey market has had positive effects; however, the market remains deeply fragmented. It will be difficult for all three operators to grow considerably without a major influx of new players. This reinforces the idea that the Garden State is in desperate need for a player-sharing compact with another state. So far, Nevada seems to be warming up to the idea; however, no major progress has been made. There is also a hope that if Pennsylvania does become the next state to legalize online casinos this year that other neighboring states could also forge a partnership. Until then, it will be interesting to see how cash game liquidity progresses this year.
iGaming Revenues Surge 29% in January
In the meantime, the New Jersey Division of Gaming Enforcement (DGE) have released its latest casino results for the first month of 2017, and it seems like the state's online gambling industry has continued ts upwards trajectory into the new year. In fact, online casino and poker games generated $18.8 million in January, marking an impressive 29% increase compared to the $14.6 million that was taken in the same month of 2016.
Furthermore, the Garden State's brick-and-mortar casinos also noted a positive 5.9% improvement in their year-on-year revenues to $185.9 million, a figure that does not include their internet gambling results. Consequently, online gambling now accounts for more than 10% of New Jersey's overall gambling market, and as analyst Tony Marino explains:
"It is well to remember that brick and mortar versus internet gaming win numbers do not always move in the same direction in any given month. This January, however, both significantly increased."
Leading New Jersey's iGaming market in terms of revenues was the Golden Nugget with $4.7m, followed by Caesars with $4m and then Borgata with $3.7m. Next was Resorts Digital which reported a huge 120% revenue surge to $3.1 million, with the Tropicana bringing up the rear on $3 million.