Texas Against Gambling Group Calls For Raids On Poker Clubs
Home
»
Poker News
» Texas Against Gambling Group Calls For Raids On Poker Clubs
Wednesday, September 12th, 2018 | Written by Charles Washington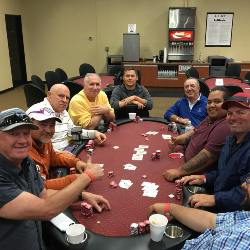 Casino gambling may be illegal in Texas, but it has nonetheless become well-known for the numerous private poker clubs that have sprung up across the state. Contributing to their proliferation is the fact that such enterprises are able to exploit a loophole provided by Texas Attorney General Ken Paxton, who said that it was his department's standard procedure to not offer an opinion on any issue that is currently the subject of pending litigation.
This means that poker rooms feel within their rights to remain open until the courts clarify their position, or new legislation is introduced by state lawmakers. While the courts have yet to issue an opinion on their legal status, however, several municipalities have taken a different approach by sending "cease and desist" letters to poker clubs in their jurisdictions.
Naturally, these have largely proved ineffective, and speaking out against the situation, an anti-gamblin groups called Texas Against Gambling (TAG) published an onion piece in the Baptist Standard website on Monday offering the following drastic solution:
"Skip the mostly useless "cease and desist" letters, and just raid the joints. That approach has worked in Dallas and Plano. It can work in the rest of the state."
Gambling in Texas
Despite being the country's second most populated state with 26 million people, Texas is one of the most draconian jurisdictions as far as gambling is concerned, and has just one Indian casino, the Kickapoo Lucky Eagle Casino that is allowed to operate under the Indian Gaming Regulatory Act (1987). Aside from this venue, the only other gambling permitted in Texas includes a state lottery, pari-mutuel betting, and charity bingo and raffle games.
The same strict rules apply to poker, even though the game's most popular variant, Texas Hold'em, originated in the city of Robstown in Nueces County, Texas in the 1900s. As a section of the state's gambling code explains, poker is permitted only under the following circumstances:
(1) The actor engaged in gambling in a private place;
(2) No person received any economic benefit other than personal winnings; and
(3) Except for the advantage of skill or luck, the risks of losing and the chances of winning were the same for all participants.
Poker rooms, however, have been able to circumvent these rules through a variety of means. This includes ensuring that they run a fair game, and also forgoing charging a rake or tournament fees for their games in favor of requiring those individuals wishing to play first pay for a membership subscription.
Litigation
Another way in which poker clubs have been able to keep operating is related to a seven-year old state policy that prohibits the Attorney General's office from becoming involved in matters that are pending legal action. In what is being regarded as a cynical attempt to exploit loopholes, an Austin Card Room is now suing a San Antonio-based card room called FSS Venture over unfair competition allegations, asserting that it had lost customers due to FSS Venture offering cheaper rates.
Referring to the case in his commentary piece called 'Don't tell poker clubs to 'cease and desist.' Just raid them', Rodger Weems expressed incredulity as to the lawsuit, calling it a trick that ultimately prevents the Attorney General's office from addressing the legality of card clubs. As he explains, by delaying their closure such lawsuits allow these commercial enterprises to continue operating until such pending cases are resolved.
Raid Them
A much tougher stance should now be taken against Texas card rooms, according to Weems. Instead of sending out "cease and desist" letter which are simply ignored or tied up in court, law enforcement should be conducting raids across the state. This has previously been carried out with a measure of success in other cities such as Dallas and Plano, and as he explains:
"That sends a strong message, resulting in far fewer of these establishments than in localities where polite-but-mostly-ineffective "cease and desist" letters have been the principal law enforcement tool."
Lawmakers, on the other hand, have largely been guilty of ignoring reality and the fact a large number of Texans evidently want to play poker, with masses also traveling to neighboring states in order to play the game. They might therefore better utilize their time and resources passing suitable legislation that will provide consumer protection and generate extra revenue for the state, rather than trying to shut down all the poker establishments currently in Texas.