Temporary Cyprus Casino Impacted by Competition in Breakaway North
Home
»
Poker News
» Temporary Cyprus Casino Impacted by Competition in Breakaway North
Tuesday, July 10th, 2018 | Written by Charles Washington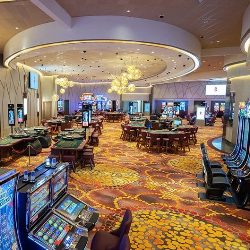 Since opening on June 28th, Melco Resorts' temporary casino in the Republic of Cyprus has seen just 7,000 visitors pass through its doors, with that number coming in at well below initial estimates.
While the 242 slot machine and 33 gaming table operation is the country's sole casino, in the breakaway north of the island, seized by the Turkish army in 1974, there are currently around 30 casinos operating without any strict regulations in place. Commenting upon the uneven situation, Melco's property president Craig Ballantyne, told the Cyprus Mail.
"It has been a real rollercoaster ride.. It's been a bit of fun but it's below expectations I have to say that. We're not the only game in town and we never have been, never will be."
First Full-Scale Casino By 2021
The Republic of Cyprus is scheduled to open its first casino resort in 2021, with the €550 million project in Limassol expected to feature 1,200 slot machines and 136 table games once completed. The integrated resort will also offer a five-star hotel with 500 bedrooms, 11 restaurants, coffee shops, a shopping area, spa and sports center, all of which is expected to attract more than 300,000 tourists a year, whilst creating employment opportunities for around 11,000 people.
Temporary Casino
In the meantime, a temporary casino facility was opened in Limassol at the end of last month, at a cost of €12 million to Melco. The venue currently employs around 600 people, three quarters of whom are Cypriot nationals, and ahead of its opening, Melco predicted that it would receive around 25,000 visits per month.
Its opening day was supposed to be a big deal for the island. Last weekend, however, around two thousand people visited the venue per day, or around seven thousand for the whole weekend, of whom four thousand opted to join the casino's reward club. According to reports, local residents comprised the bulk of guests, while the biggest group of overseas visitors hailed from Greece, Ukraine, Russia, the UK, Italy, and Lebanon.
Thus far, slot machines have proved the most popular draw for its patrons, while the casino's blackjack, roulette, and various poker variants have also seen their fair share of action.
Not the Only Game in Town
As mentioned, the Republic's lone casino faces competition from the dozens of casinos situated in the Turkish Republic of Northern Cyprus (KKTC), an unrecognized statelet that is supported economically, politically and militarily by Turkey. In addition to its casinos detracting from the one now open in the Republic of Cyprus, northern casinos also have a number of operational advantages over their southern counterpart.
This includes enjoying lax regulatory rules, such as some venues giving away alcohol and tobacco for free. As Ballantyne subsequently explains "they don't have the same regulations as we do, so it's not a level playing field."
Interestingly, despite their prevalence in the north of Cyprus, casinos are illegal in mainland Turkey. In May, Turkey country subsequently investigated 13 casinos in Northern Cyprus, some of which had apparently being using banking institutions in Turkey to launder their money. So far, around $100 million has been confiscated by Turkey following a probe carried out by its Board of Investigation on Financial Crimes.
Discriminatory Advertising Rules
Another area of concern for Melco is the country's rules on gambling advertising, which Ballantyne describes as being somewhat "discriminatory". Currently, Cyprus prohibits gambling products being advertised in such a way as to encourage people to gamble. Nevertheless, Ballantyne points out that the OPAP organized lottery operation is allowed to promote its multi-million euro jackpots everywhere and pitch to people the idea of a life-changing jackpot win, stating:
"We wouldn't want to do that, but then you've got Lotto advertising on TV every night and you've got Opap advertising the Joker every day on every shop window in every street and every corner at €1.4 million or €2.4 million, so I kind of find that a little bit discriminatory."
Challenges Ahead
According to Ballantyne, Melco is still getting to grips with the nuances of the Cypriot market, and is in the process of refining its operation. The company, for example, has brought its advertising concerns to the attention of the relevant authorities, while customer feedback is being used to provide gamblers a more attractive selection of table games at its temporary facility, including the possible inclusion of some high-end baccarat tables.
Nonetheless, the casino official has emphasized that theirs is a long term investment, and that while numerous challenges have come to light after the temporary casino's opening, it is the main integrated resort which ultimately lies at the center of the company's strategy.