Sweden To Liberalize Online Gambling Market
Tuesday, May 16th, 2017 | Written by Stephen Smith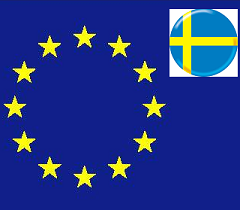 Currently, online gambling, casino gambling and gambling terminals are all legal in Sweden, although the laws that permit their operation have proven quite controversial. In Sweden, all gambling is currently overseen by a state-run agency called Svenska Spel, but in recent times the organization has been challenged in the European Court of Justice by offshore operators eager to provide their services in the state. The legal body of the European Union Commission subsequently ruled against Sweden, leaving the country unable to prevent offshore operators from offering their services and advertising their products within the Scandinavian country.
Now, Sweden finally appears ready to accept the ruling and adjust its laws to close loopholes and properly regulate online gambling in a way that better complies with European Union law. Some of the features of the country's newly proposed gambling legislation include:
– Opening of the Online Market. Under the new law, offshore operators would be able to apply for licenses to operate online gambling websites in Sweden. However, Svenska Spel would still maintain control of land-based casinos, and the gambling terminals located in the country.
– Support for Liquidity. Online poker sites licensed in Sweden will be free to pool players from other countries around the world without having to consult the government for further permission.
– Fees and Taxation. All online gambling sites will have to pay supervisory fees each year. The fees will range from $3,300 to $110,000, depending on the size of the site. In addition, operators will need to pay a gross gaming revenue tax of 18 percent.
– Crackdown on Illegal Sites. Now that offshore operators will be permitted to apply for licenses, Sweden intends to crack down on those that do not and continue to provide services in the country without first obtaining the proper credentials. Consequently, unlicensed operators could be slapped with fines of $550 to $5.5 million, while payment processors facilitating transactions for unlicensed sites face being criminally prosecuted under the new law. In the meantime, Sweden intends to experiment with different methods of blocking these processing transactions as a further means of controlling illegal operators..
– Internet Service Provider Compliance. All Internet Service Providers operating in Sweden will be required to notify site visitors that they have accessed illegal gambling sites when they visit the websites of offshore operators that do not hold official licenses.
A Long Way to Go
While the proposed legislation seems to be a step in the right direction, Swedish gambling enthusiasts shouldn't start celebrating yet. Those familiar with Swedish politics warn that the legislative process will be grueling and that it could take several years before any bill is actually signed into law.
While there is a lot of support for liberalizing Sweden's online gambling laws, not everyone is in favor. The Chairwoman of Svenska Spel, Anita Streen, resigned in April 2016, for instance, when the country first began considering changing the laws. Her criticism is that allowing offshore operators to provide gaming services would put players at risk and stymie efforts to control gambling addiction. Fortunately, Streen's replacement, Erik Strand, seems more amenable to changing the current system. The question is–are there enough legislators that think like Strand for the bill to succeed?
The Maltese Connection
Currently, Sweden's grey online gambling market is dominated by overseas operators such as Bet365, Unibet and Betsson, whose Swedish visitors number around 230,000 gamblers every month. These firms obtain their iGaming licenses from Malta, with the jurisdiction having carved out a lucrative business for itself by offering competitive license fees set at an annual maximum rate of €8,500, as well as a remote gambling tax with an upper limit of €466,000.
Naturally, Malta is currently following the development proposed for the Swedish iGambling market closely, with George Debrincat, chairman of Malta's Remote Gaming Council (MRGC), stating that the new proposal suggested by the Swedish government will likely be a long, drawn out process. As he commented recently:
"The gaming industry wants to operate in regulated markets where clear guidelines exist, since regulated markets protect the consumer and set a base for competition which provides the best service and prices to the consumers."
Meanwhile, he took the opportunity to highlight that no rash decisions would be made that could jeopardize Malta's status as a place for online gambling companies to do business, stating:
"The MRGC is aware of these new proposals, but the industry is not bound by geographical borders, and this means that, companies which have a license issued by other countries, can still continue to operate from Malta."