Spain and Portugal's Online Gambling Markets Report Strong Growth in Q2
Home
»
Poker News
» Spain and Portugal's Online Gambling Markets Report Strong Growth in Q2
Wednesday, August 29th, 2018 | Written by Charles Washington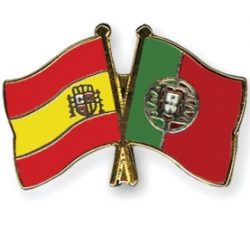 Spain and Portugal have released the latest financial results for their respective online gambling markets, with both countries posting solid year-on-year growth for Q2 of 2018. While Spain saw its revenues soar by 40.1% in the three month period ending June 30, growth was even more pronounced in Portugal with revenues spiking by 47.4% during the quarter.
Spain Generates €167.2m in Q2
On Tuesday, Spain's online regulatory body, DGOJ, released its revenue results for Q2 showing a 40.1% jump in revenue to €167.2 million ($195.1m), although that figure was only up by 2.3% compared to the previous quarter.
From that tally, sports betting accounted for a 52.4% (€87.6m) slice of the market's gross gaming revenue (GGR), followed by online casinos with a 33.8% share worth €56.52 million, or a 36.9% increase year-on-year. The next biggest vertical was poker with a 11.63% (€19.45m) share, and then bingo with 1.96% (€3.28m), and finally competitions which generated a mere €340,000.
Growth Helped by Sports Betting
Spain's regulated sports betting segment helped to lift overall GGR, with the €87.6 million it generated representing a 46.68% improvement year-on-year, but a more moderate 7% increase versus Q1. One of the main factors accounting for its stellar performance was the 2018 FIFA World Cup which took place from June 14 to July 15, and was one of the most exciting seen in recent history.
The competition also produced a significant increase in new customer registrations, which soared by one-third to 268k, with monthly average users also higher by 31.7% at almost 860k. Furthermore, the World Cup resulted in operators bumping up their marketing spending by a whopping 55.2% to €81.3 million, including €41.1 million spent on advertising, €29.6 million on promotions, €8 million on affiliate marketing, and €3 million on sponsorships deals.
Poker Down Despite Liquidity Sharing
At the beginning of 2018, Spain and France launched shared online poker liquidity, followed by Portugal in May. Significant growth was subsequently reported during Q1, and while Q2 poker revenue posted a similarly impressive 34.8% year-on-year gain to €19.5 million, it was actually lower by 9.4% sequentially, despite PartyPoker joining the shared liquidity compact in June.
Nevertheless, analysts believe that the World Cup was also responsible for the quarterly decline as cash games plummeted by 18.1% to €6.9 million, while tournaments suffered a more moderate 3.8% fall to €12.6 million.
Portugal GGR Hits €37.3m in Q2
According to the Portuguese regulator SRIJ, the country's online gambling market followed a similar trajectory to its eastern neighbor, with its GGR rocketing by 47.4% to €37.3 million ($43.5m) in the second quarter.
Sports Betting Fuels Growth
In Q2, sports betting generated €13.9 million in revenue, marking a sizeable leap versus the €13.9 million taken in the same quarter last year. Once again the 2018 Fifa World Cup helped fuel growth, with football accounting for 74.4% of all sports bets placed, while next highest tennis (14.2%) and basketball (7.2%) appeared a long way back.
Encouragingly for the vertical, the country's eight licensed online operators saw their new customers sign ups reach a massive 103,000 in Q2, up by a staggering 40,000 year-on-year. Furthermore, half of them did so during the month of June during the early stages of the FIFA World Cup.
Online Casinos Up 38%
Portugal's online casino market saw its revenue jump by 38% to €16.8 million in Q2, or €5.4 million more than the same quarter in 2017, with slots generating 55.4% of all casino revenue. The country currently has just one online poker license holder, The Stars Group, and so includes the segment's results in the overall online casino figures.
In Q2, poker commandeered a 20.4% share of the online gambling market, up from 18.6% in the previous quarter, thanks mostly to the shared European liquidity pact agreed with France and Portugal. Poker cash games claimed the lion's share of revenues at 15.3%, while tournament accounted for the remaining 5.1%.
€16.9m in Taxes
Portugal collected €16.9 million in tax revenues during Q2, or €3.6 million more than the same quarter in 2017. Nevertheless, the government has been criticized for imposing a punitive tax rate on the industry, especially sports betting whose turnover is subject to a punitive variable tax rate that rises as high as 16%. This has been blamed for the market's inability to draw local gamblers away from unlicensed gambling sites.
Instead of reducing the tax rate, however, the government has made eliminating competition from international sites its priority. To date, the SRIJ has issued 302 notices to such operators, and ordered local internet service providers to block access to 237 of them. It has also has referred 11 uncooperative operators to prosecutors "for the purpose of proceedings."