Senator Orrin Hatch Proposes Federal Regulation of Sports Betting
Home
»
Poker News
» Senator Orrin Hatch Proposes Federal Regulation of Sports Betting
Thursday, May 17th, 2018 | Written by Charles Washington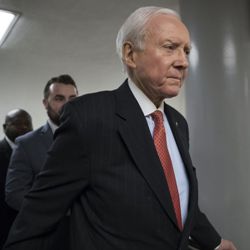 This has been one of the most exciting weeks as far as the USA's gambling industry is concerned, with the decision of the Supreme Court to allow individual states to determine whether or not to legalize sports betting representing a major victory for state rights.
Now that the Professional and Amateur Sports Protection Act (PASPA) has been deemed unconstitutional, however, the next big question is whether Congress will subsequently allow the country's individual states to introduce their own state-level regulation, or if it will instead try to impose a federal regulatory framework on the whole sports betting industry.
Senator Orrin Hatch
While initial indications suggest that Congress seems content for now to allow individual states to make their own choices concerning sports betting, one Congressman in particular has expressed his determination to see sports gambling regulated on a federal level. Given Senator Orrin Hatch's credentials, that is not all that surprising, after all Hatch was one of the original authors of PASPA, and these days serves as senior US Senator for Utah, one of the few states where all forms of gambling are banned.
Gambling to Piggyback Sports Betting?
Around a dozen states have already introduced sports betting legislation enabling them to take quick advantage of the Supreme Court's decision, with New Jersey, who started the legal PASPA challenge back in 2012, expected to have its own industry up and running within a few months.
Numerous other states are also expected to follow suit in the near future, with a growing sense of optimism in the gambling industry that iGaming provisions will also be added to potential sports betting bills to further expand their scope. While this may certainly be the case as far as those states already with existing regulated online gambling markets in place are concerned, in other less liberal states the politically sensitive topic of online gambling is still likely to encounter the same conservative objections as in previous times.
Nevertheless, online wagering constitutes an important aspect of the sports betting industry, causing concern amongst some politicians that the Internet may spread the proliferation of gambling and sports betting across state borders.
Internet and Integrity Concerns
Each state now has the option to legalize and regulate sports gambling if it so wishes. Senator Hatch, however, points out that sports betting activity has the ability to traverse state lines via the Internet, making the need to introduce a federal framework more important than ever. As he subsequently posted on his Congressional website after PASPA was struck down:
"The problems posed by sports betting are much the same as they were 25 years ago. But the rapid rise of the Internet means that sports betting across state lines is now just a click away. We cannot allow this practice to proliferate amid uneven enforcement and a patchwork race to the regulatory bottom. At stake here is the very integrity of sports. That's why I plan to introduce legislation in the coming weeks to help protect honesty and principle in the athletic arena. I invite stakeholders and my colleagues on both sides of the aisle to join me in addressing this important issue."
Federal Standards Needed
Also calling for a federal sports betting framework is NBA commissioner Adam Silver, who prior to the recent Supreme Court ruling was one of the few leading sports leagues figure coming out in favor of legalization. Rather than a state-by-state approach, however, Silver seems to believe that a federal solution would provide the best means possible for preserving the integrity of sports.
Federal Law Long Way Off
Despite some limited support for federal sport betting legislation, analysts seem to believe that there was unlikely to be any new laws being introduced in Washington anytime soon. Height Capital Markets analyst Stefanie Miller, for instance, has described such a development as "highly unlikely", and as she explained on Tuesday:
"This year, we expect the appetite across enough members in both chambers of Congress to address the issue is extremely low ahead of an election. Next year and in the foreseeable future, we expect continued apathy surrounding the issue will prevent Congress from advancing anything."
Another couple of analysts involved in the gambling industry have also expressed similar views, with Robert DellaFave ironically pointing out that the dinosaurs of Congress "must have their day", and Michelle Minton tweeting that she "can't imagine this has any better than a snowball's chance in hell."
In the meantime, federal framework advocates will lose one of their most ardent proponents after Senator Hatch retires from the Senate at the end of his term in early 2019.