Rich Muny Replaces John Pappas as PPA Executive Director
Home
»
Poker News
» Rich Muny Replaces John Pappas as PPA Executive Director
Friday, February 9th, 2018 | Written by Adam Brown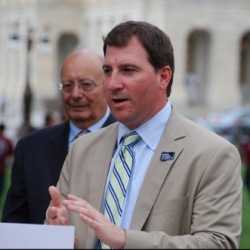 For more than a decade John Pappas has been the Executive Director of the Poker Players Alliance (PPA), but the hugely influential figure has now decided to pass on the baton to the organization's current Vice President Rich Muny, with his resignation coming into effect at the end of this month. After making his announcement on Wednesday, Pappas also further highlighted the important role played by the PPA within the USA's gambling industry, stating:
"I am proud of the work I have done with the PPA board of directors and the amazing PPA staff to bring us to this point. I will miss working for the poker community on a day-to-day basis, but I am confident that the PPA will continue its great work with Rich Muny at the helm."
Despite stepping down as Executive Director, John Pappas will continue to advise the PPA on strategy from his position on the Board of Directors. Meanwhile, the career lobbyist will no doubt find himself in another leadership role soon at some other well-established lobbying group.
Funding Shortfall
During his tenure, one of Pappas' major successes included ensuring US poker players received refunds from the site's that shut down following the Black Friday indictments. It's not just the poker players who had been suffering from a lack of money, though, and last year the PPA warned the poker community and its more than one million members that an ongoing lack of contributions was limiting the effectiveness of the organization. John Pappas was subsequently instrumental in getting the funding message out and encouraging donations from the public.
Nevertheless, it is generally believed that online poker operators lobbying for the games legislation stateside account for the lion's share of contributions over the years. Therefore, considering the slow pace of progress in online poker legislation since Nevada, New Jersey and Delaware launched regulated markets in 2013, it is fair to say Rich Muny will have his work cut out trying to maintain an adequate level of donations for the PPA.
Exciting Times Ahead
As Executive Director, Pappas made numerous appearances at hearings in those states exploring the possibility of legalizing online poker. The arguments and expertise he subsequently managed to present to lawmakers in support of the game cannot be overstated, and in 2017 Pennsylvania eventually became the fourth state to introduce legislation.
"There has never been greater momentum than right now for the advancement of sensible internet gaming policy in the US," commented Pappas at his recent press conference.
Sports Betting
New Jersey's sports betting case is expected to be heard in the Supreme Court this summer, with a positive outcome paving the way for the Professional and Amateur Sports Protection Act (PASPA) to be overhauled. This would be a welcomed as a hugely positive development for state's looking to make their gambling markets more competitive in the face of growing competition, as well as acting against the interest of illegal bookmaking operations.
According to the American Sports Betting Coalition (ASBC) there are presently 32 pieces of sports betting legislation lodged in legislatures across 16 states, with West Virginia this week becoming the latest to introduce a bill in anticipation of a positive decision.
Re-Focused Efforts
Against this backdrop, Pappas has pointed out that expanding its advocacy efforts to sports betting could prove a rewarding opportunity for the PPA, and would also represent a convergence of interests as a high proportion of poker players are also likely to be sports bettors. In fact, a survey conducted by the PPA last year revealed that a massive 92% of its members would approve of legalized sports betting bill if internet poker was also included in the legislation.
Consequently, the PPA has sent out another survey to its members exploring their current level of interest in sports betting, while the group has also now included a sports betting page on its website designed to keep poker players abreast of current legislative efforts in the industry.
"The PPA has been adjusting to a significant reduction in financial support from the internet gaming industry and thus has refocused its efforts on cost effective grassroots advocacy," explained a PPA statement.
Chances of Success
While PASPA allows just Nevada, Oregon, Delaware, and Montana to legally provide sports betting services in the US, just Nevada offers the full range of sports betting products. That may all change when the Supreme Court issues its judgement in June, although according to ESPN a decision may be made as early as next month. As a federal law, PASPA being overturned would then give any state the right to launch a legal sports betting industry of its own.