Revamped PokerStars Rewards Program Now Global
Monday, July 24th, 2017 | Written by Charles Washington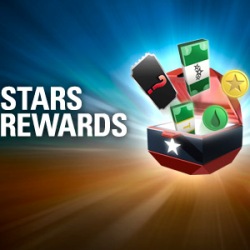 PokerStars has been undergoing major changes in recent years, with one of them involving the world's largest online poker operator completely revamping its VIP program in the hope of attracting a new target market of recreational players. After analyzing the success of its initial program roll out in Denmark on May 25th, the company subsequently revised its VIP rewards system further, and introduced it with a soft opening in Portugal, Spain and France at the beginning of July, followed by a worldwide release effective from July 6, 2017.
As Severin Rasset, Director of Poker Innovation and Operations at PokerStars, commented in a press release: "We have designed an exciting and inclusive program that will appeal to all kinds of players. We aim to make every game count and reward their loyalty whatever they feel like playing."
Here are some facts about the new program:
– Rewards are earned across platforms. The new rewards program leaves players free to explore all three platforms on the PokerStars network: poker, online casino games and sports betting. Players are rewarded for being loyal to the operator, and not for putting in countless hours at certain games.
– Rewards are earned through points. With the new system, players will receive points for playing poker and casino games and for placing sports bets. Players will receive 100 points for every dollar in rake paid at cash poker tables, and 100 points per every dollar paid in fees for Sit and Go games and tournaments.
– Rewards come in chests. As you accumulate points, you'll reach different thresholds. At each threshold, you receive a chest that contains a prize. The chests have maximum cash values as follows:
– Red chest – Maximum value of €50
– Blue chest – Maximum value of €100
– Bronze chest – Maximum value of €250
– Silver chest – Maximum value of €500
– Gold chest – Maximum value of €750
– Platinum chest – Maximum value of €1000
– Rewards are randomized. When you do receive a reward, you won't know exactly what you're getting. You could receive tournament tickets, free bets, cash and more. The system learns what types of games you play, so rewards are somewhat personalized. In other words, you are more likely to get a free sports bet if you have placed sports bets in the past, or a free tournament entry if you have competed in tournaments before.
– The new reward system is geared toward recreational players. With the new rewards system, PokerStars is hoping to make the game fun and exciting for recreational players. Players are rewarded for being loyal to the site and are encouraged to experience many different types of games offered by PokerStars.
– Pro players will find it hard to earn a living with the new rewards structure. Not everyone is thrilled about the revamped VIP program. Pro players who head to the site to play and make a living will find it hard to do so going forward. Rewards are no longer tied to rake back levels, so playing a high volume of the same game will not yield profits.
Feedback So Far
As one would expect, the new rewards program is receiving both praise and criticism online. In the nay camp, here are some initial reactions to the changes recently implemented by PokerStars, starting with 'Just MEE' who let his opinion known via the HighstakesDB forum:
"After 20k hands the rakeback is at 4%. And the "funny" thing is that the points needed to get the reward boxes grow, so I suppose that in the end you won't be able to get any rakeback because the "personalized" requirements needed to get any boxes will be unattainable. So it's harder and harder to get them. The last one was funny . After raking 25 dollars they gave me 7 stars coins. HAHAHAHAHHAHAHAHAHAHHA" followed by "personalized I guess means – we do whatever we like and nobody can verify us"
Another PokerStars grinder called 'Hero Value' appeared equally as disappointed, and wrote on the 2+2 forums:
"yet another very poor direction that amaya is taking with pokerstars Just another way for them to be less transparent, be less reg-friendly, and try to make the site more about gambling than poker."
Despite the protests of pro players, however, PokerStars is unlikely to return to the previous rake back-tied VIP model, as its goal is now to promote a recreational player-friendly environment.