Quebec Orders ISPs to Block Unlicensed iPoker Operators
Home
»
Poker News
» Quebec Orders ISPs to Block Unlicensed iPoker Operators
Monday, April 6th, 2015 | Written by Shane Larson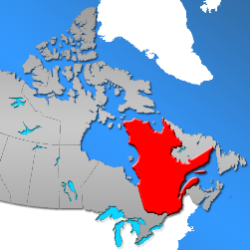 Canadian players in Quebec may soon find themselves unable to access some of the most popular online poker sites in the world, after the province's government announced its intention to introduce new legislation forcing Internet service providers (ISPs) to block access to unlicensed internet gambling and poker websites. The move is designed to protect the province-run Loto-Quebec corporation and its Espace-jeux online gambling brand from lost revenues to these unregulated operators, and is expected to generate an extra $13.5 million revenues in 2016/17, and $27 million each year thereafter. Commenting on its proposed plan to introduce the "illegal website filtering measure", a Quebec government statement read:
"..illegal websites do not apply the same responsible gaming rules as Espace-jeux. They thus pose a risk to the population, especially young people."
Low Loto-Québec Revenues A Driving Force
While the Quebec government professes to be acting in order to protect internet gamblers from addiction and abuse, other analysts believe the move is motivated by the significantly lower than expected revenues generated by Loto-Quebec, possibly as a result of competition from grey market operators. In fact, a recent study suggests that two-thirds of Quebec's population of 8,214,672 people did not realize that Espace-jeux was the province's official licensed gambling site, and as Quebec's finance minister Carlos Leitao, explains:
"Unlicensed sites obviously don't have to follow those same guidelines so they have a huge competitive advantage. What we're saying is, If you want to play the game, everybody has to follow the same rules."
New Laws Possibly Illegal
Nevertheless, Quebec residents' having their access to the Internet censored is seen as setting a dangerous precedent by opponents of the move, with University of Ottawa law professor Michael Geist seeing it as purely for commercial gain. He also said the move was also quite possibly an "illegal plan", especially since telecommunications regulations are ordinarily undertaken by the federal government. Commenting further on his objection to the plan, professor Geist wrote on his blog:
"Online gambling sites are not illegal to view and to legislate blocking for commercial gain sets a dangerous Canadian precedent. In fact, once blocking gaming and gambling sites is established, it is easy to envision the government requiring blocking of sites that are alleged to infringe copyright or blocking e-commerce sites that are not bilingual or do not pay provincial taxes."
Supporting Geist's warning to the Quebec government to think "very, very carefully" before undertaking such a drastic measure, Bram Abramson, from telecommunications company TekSavvy Solutions Inc. (TSI), said:
"ISPs are intermediaries and we do what we do best when we act a little bit like utilities. We provide access to the Internet. We should not be put in a position of picking and choosing what people have access to."
Interestingly, Quebec's Finance Minister Carlos Leitao has acknowledged that ordering ISPs to block gambling websites falls into a legislative grey area, and that further studies in conjunction with federal officials would need to be undertaken before the proposal are implemented. However, Leitao did express his belief implementing blocking measures was "perfectly feasible."
Concessions For Amaya Gaming?
In the event of blocking legislation passing into law, Quebec residents could soon find themselves cut off from playing at some of the world's best poker sites, including 888poker, partypoker, and more specifically PokerStars and Full Tilt. Nevertheless, Quebec-based online gambling company Amaya Gaming purchased The Rational Group, parent company of PokerStars and Full Tilt Poker, for $4.9 billion on August 1st last year, while in the meantime Amaya gaming also continues to provide certain technology for Espace-jeux. Amaya Gaming has since risen to become the world's largest publicly listed internet gaming company, with its shares currently worth C$31.19 each on the Toronto Stock Exchange (TSE), giving the Canadian company a market capitalization of C$3.708 billion.
Therefore, it remains to be seen whether the Quebec government will make certain concessions to Amaya Gaming before moving ahead with its plan. One theory supporting this possibility is the fact Quebec has contemplated in the past the idea of loosening its monopoly on the gambling industry to a limited degree, by opening up its market to a number of select private operators, of which PokerStars is likely to be high up on the list.