Pioneering British Poker Pro Devilfish Passes Away Aged 61
Home
»
Poker News
» Pioneering British Poker Pro Devilfish Passes Away Aged 61
Friday, April 10th, 2015 | Written by Shane Larson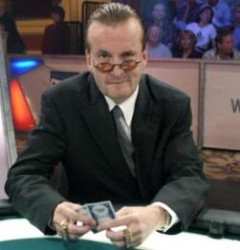 On April 6th, the poker community heard the sad news that one of the games most celebrated players, Dave "Devilfish" Ulliott, passed away from cancer aged 61. Despite news of his cancer reaching the media near the end of March, Ulliott's demise still came as a shock for players on both side of the Atlantic as Ulliott was one of those larger than life characters who had become a household name since winning the first series of the pioneering UK TV show Late Night Poker, which helped popularize the game in the 2000s. As the indomitable Devilfish said concerning his recent struggle against cancer:
"It is just one of those things. It is a hand that life has thrown at me. All my life I have had rubbish hands and I have managed to turn them around. It is what I am good at and this is no different."
Unfortunately, this time the odds were too heavily stacked against the poker veteran from Hull, and the poker world is currently mourning the passing of one of its most eccentric characters. On Monday, Ulliott died peacefully in his home town surrounded by his wife Anpaktita, and eight children.
Legendary Nickname
The game of poker has always thrived on the colorful personalities who play the game, and the very best pros usually receive nicknames befitting their legendary status, such as 10 times WSOP bracelet winner Doyle Brunson, who was given the moniker "Texas Dolly" by Jimmy "The Greek" Snyder, or Poker Hall of Famer Thomas "Amarillo Slim" Preston, who wouldn't have looked out of place playing cards in an Old West type saloon. Then on the other side of the Atlantic there was Dave Ulliott, who was given the name "Devilfish" by Stevie Au-Yeung at one of his private card games. As Ulliott explains:
"This particular night became memorable for another reason. I was playing my usual game.. trying to boss the table. Stevie stood there watching, and then he smiled and said that I was a devil fish.. the slang name for a Japanese fish, the tako fugu or blowfish, which was poisonous to eat if it wasn't prepared exactly right."
Although Ulliott said he liked the name, he also said he thought no more about it until traveling to Las Vegas and reaching the final of the 1997 Four Queens Poker Classic Omaha tournament, where he eventually faced formidable opponent Men "The Master" Nguyen heads-up for the title. Some of Ulliott supporters then started cheering "GO ON, THE DEVILFISH", and after winning the event, the local papers read 'DEVILFISH DEVOURS THE MASTER!' The rest, as they say is history.
Legendary Results
In addition to looking every inch the card sharp with his orange-tinted sunglasses, stylish suit and gold rings, Dave Ulliott was a player of extraordinary skill, which he was then able to use to extricate himself from his impoverished background on a council estate in Hull. Putting two short stints in prison behind him, Ulliott soon became a poker force to be reckoned with during the early 1990's, and following an almost disastrous gambling visit to Las Vegas in 1997, he won a WSOP bracelet at the $2,000 Pot Limit Hold'em tournament for $180,310.
Success followed success, and in 1999 Ulliott won the first TV poker show to use hole cam technology, Late Night Poker, and in so doing won a legion of fans who were fascinated to see this real-life poker pro in action. Ulliott would eventually become the UK's most successful poker player with $6,218,294 in tournament earnings to his name, although he is currently at number 2 after Sam Trickett finished runner-up in 2012 at the $1 million buy-in WSOP Big One for One Drop for $10,112,001.
Poker Pros Offer Condolences Via Social Media
Following Dave Ulliott's passing, the poker community has been mourning his passing on social media, with Doyle Brunson, 81, calling for Devilfish to be added to the poker Hall of Fame this summer. Lending his support to the call, 13 times WSOP bracelet winner Phil Hellmuth tweeted: "He's a poker legend who is going into #PokerHallOfFame I'll miss you Fish!", while 8 times WSOP winner Eric Seidel wrote: "Agree w @TexDolly, it'd be good to see @devilfish2011 in HOF. Devilfish's book is a great read also." Canadian superstars Daniel Negreanu added: "Poker lost one of it's most colorful characters today. RIP Dave "DevilFish" Ulliot." Here are some further outpouring of sympathies from the poker community:
PokerStars
"Yesterday we lost a legend of the game. Our condolences to the family of the unforgettable Dave 'Devilfish' Ulliott"
John Duthie
"Can't believe that Devilfish has lost his fight with cancer. He brought so much laughter to this world and will be deeply missed by many."
Toby Lewis
"RIP Dave always putting smiles on faces. Knew my name for 10 years, called me 'kid' every time. #Devilfish"
Mike Sexton
"@rocher6475: Dave 'Devilfish' Ulliott lost his battle with cancer today" @MikeSexton_WPT sadly true this time" Sad is right. #pokerlegend"
Andrew Perendes
"I never have any remorse about many things, but I'm missing Dave already. Poker is not poker without the name Devilfish."