Paddy Power Slammed By UKGC As Revenues Top €1.1BN
Home
»
Poker News
» Paddy Power Slammed By UKGC As Revenues Top €1.1BN
Monday, March 21st, 2016 | Written by Shane Larson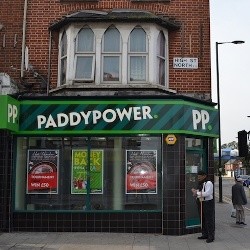 Gambling machines can legally be offered in licensed UK venues, as long as bookmakers follow the rules enforced by the UK Gambling Commission (UKGC). A recent report, however, revealed that one operator, Paddy Power, grossly failed to comply with the law, for which they were ordered to pay £280,000 towards a socially responsible cause. Nevertheless, its business continues to boom and according to Paddy Power's latest financial result revenues were up by an impressive 24% to €1.1 billion in 2015, marking the company's best revenue figures to date.
The Paddy Power Story
In the wake of the latest controversy involving Paddy Power, the UKGC released a report in which it lists a number of the Irish bookmaker's failings. After an investigation, the commission found that Paddy Power was guilty of encouraging a man with an apparent gambling addiction to continue betting until he had spent so must that he lost his home, and had to work five jobs to try and cover his expenses. The game that the player was betting on is a highly addictive form of gambling called a fixed odd betting terminal, which is basically an electronic roulette machine. These FOBTs work at a fast pace, accepting bets of up to £100 five times per minute.
Senior management was notified that the man appeared to be overspending but employees were told to actually try and keep him playing rather than to try to get him assistance or even just cut him off from play. The commission also found that a customer was laundering Scottish bank notes using the roulette machines, and that again senior management failed to put a stop to the action.
A Larger Problem
In the UK, money laundering with FOBTs is not isolated to just Paddy Power. All in all, the UK Gaming Commission found evidence that 633 suspicious transactions involving the machines had taken place in 2015 alone.
Other bookmakers in the UK have also been fined for being in violation of the country's gambling laws. A company called Coral had to return £90,000 of profits earned through illegal money laundering with FOBTs, and the UKGC found that the operator Ladbrokes was not taking steps to prevent money laundering in their betting parlors.
While the UK Gaming Commission ended up applauding both Coral and Ladbrokes for being cooperative with their investigations and for taking steps to rectify the problems identified with their operations, the events point to just how easy it is for money laundering to fly under the radar when FOBTs are involved.
Critics Speak Out
In light of the recent report regarding Paddy Power, critics of the UK Gaming Commission blasted their handling of both this current case, and the ones involving Coral and Ladbrokes. They accuse the commission of not being strict enough with companies that violate the law, saying that penalties are not severe enough to discourage other companies from following in their footsteps and adhering to laws. Critics state that the commission is more concerned with bringing in revenues through licensing fees and taxes rather than protecting UK residents from gambling addiction or keeping criminals from laundering money.
Paddy Power Reports Record Revenues
Against this backdrop, Paddy Power continues to generate huge revenues from its land-based licensed betting shops, as well as its online operation, which includes sports betting, poker, bingo, casino games, and spread betting. In fact, 2015 represented its best year to date, with revenues rising by 24% to €1.1 billion, and operating profit rising by 10% to €180 million. Paddy Power and Betfair merged their operations last year, and the firms investors also had reason to celebrate after Betfair's Q3 revenue results improved by 21% to £138 million. Commenting on the new company's impressive financial figures, Paddy Power Chairman, Gary McGann, explained:
"The merger has created one of the world's largest online betting and gaming companies with enlarged scale, market leading capability and distinctive, complementary brands. On a proforma basis the enlarged group had £1,318m of revenues and £229 million of underlying operating profits for the year ended 31 December 2015. Our online businesses contributed 80% of Group revenues and 87% of operating profits."
Shares in Paddy Power Betfair PLC are currently trading at €115.50, giving the company a market capitalization of €9.67 billion.