Pa Gambling Expansion Not A Threat to NJ Gambling Revenues
Home
»
Poker News
» Pa Gambling Expansion Not A Threat to NJ Gambling Revenues
Thursday, November 30th, 2017 | Written by Stephen Smith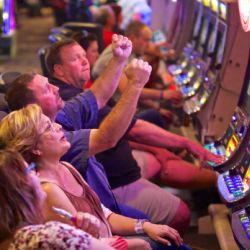 Atlantic City has seen its gambling revenues plummet over the past decade, with business having contracted from its peak of $5.6 billion in 2006 to just $2.3 billion in 2016. This then led to four of the city's casinos being forced to close shop in recent years, resulting in a significant revenue drop for the state, and a sluggish economy.
Atlantic City has turned things around somewhat over the past 6 months, though, thanks to an upsurge in online gambling, as well as a consolidation in the businesses of the the state's remaining venues. New Jersey legislators even attempted to give the industry a further boost by introducing legislation to allow for the opening of two new casinos outside of Atlantic City to compete with gambling in neighboring states.
Competition Concerns
The casino expansion proposal failed to pass a referendum, with New Jersey voting to continue restricting gambling to Atlantic City. The news came as a relief to Atlantic City's casino operators as they were concerned that establishing two more casinos outside of the city would cannibalize revenues from their existing businesses, and put additional strain on a market still on the mend.
While casino operators breathed a sigh of relief following the failure of the referendum, they have now been expressing their concerns over gambling laws changes approved by the Pennsylvania legislature allowing for an expansion of the state's online and land-based gambling operations.
Pennsylvania's Gambling Expansion
This year, Pennsylvania joined Nevada, Delaware and New Jersey in approving online gambling, with its landmark bill also allowing for 10 new mini satellite casinos to be built, albeit with restrictions. In addition, the laws permits casino-style gambling to take place in airports and truck stops across the state so people aren't just restricted to gambling at traditional casinos. If all goes according to plan, Pennsylvania is hoping to generate an extra $200 million in gaming revenues each year to boost state coffers, and ease budgetary concerns.
Draw Away AC Gamblers Concern
Atlantic City casino operators are concerned that expanded gambling in the Keystone State could reduce their gaming revenue just as Atlantic City is beginning to recover from a decade in the doldrums. There concerns are that New Jersey gamblers may decide to cross over to Pennsylvania in order to spend their money out of state. This could ultimately affect Atlantic City's ailing revenues, and pressure these casinos into competing with the expanding gaming industry of its neighbor.
No Need For Concerns
Credit rating agency Fitch, on the other hand, does not share AC's casinos concerns that Pennsylvania's expanded gaming industry will negatively impact that of Atlantic City. Furthermore, Moody's is also downplaying how Pennsylvania will impact neighboring states, and there are many good reasons why these firms feel that Pennsylvania's casinos do not pose a threat to Atlantic City gaming revenues.
The first of these reasons is that while 10 satellite casinos will open up in Pennsylvania, they will be restricted to being developed outside of Philadelphia's suburbs. Another salient point is that Pennsylvania imposes different tax rates on online gambling revenues, including a whopping 54% tax levied on online slots revenues.
This is important because almost 70% of the revenue generated from iGaming in New Jersey comes from online slots, with the Garden State's much lower online gambling tax rate of 17% making it much more attractive to iGaming operators. Of course its true that Pennsylvania has a bigger state population than New Jersey, but given the 54% slots tax rate, online operators are unlikely to be chomping at the bit to obtain Pennsylvania gambling licenses.
In fact, PlayNJ.com analyst Steve Ruddock believes amending the Pennsylvania gaming regulations will ultimately help boost revenues for New Jersey, and as Ruddock explained in a statement recently:
"After Pennsylvania's online casinos go live, a total of 26 million U.S. residents will have access to legal, regulated online gaming sites. That rising tide will positively affect every state where online gambling is legal."
Nevada, Delaware and New Jersey recently joined an interstate online gaming agreement and Ruddock believes that after Pennsylvania opens its online poker market in 2018, it could potentially help double the country's online gambling market.