Online Gambling Efforts in Connecticut Over For Another Year
Home
»
Poker News
» Online Gambling Efforts in Connecticut Over For Another Year
Tuesday, May 15th, 2018 | Written by Lucy Brown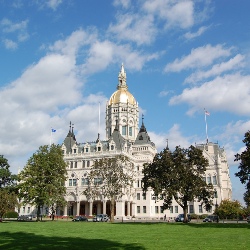 Efforts to introduce legalized online gambling and sports betting in Connecticut looks to be over for another year after the state's legislative session ended on May 9 without any progress having been made on the issue.
While it has now become apparent that gambling expansions in states with tribal casinos present a tricky proposition at best, on the plus side, at least next year legislators will return with a better appreciation of the issues involved in order to make online gambling a reality, including necessary adjustments to existing compacts.
Good Start To 2018
Gambling expansion efforts in Connecticut got off to a good start this year, with a group of state lawmakers discussing ways to pass sports betting and online gambling legislation in Connecticut, including House Speaker Joseph Aresimowicz and House Majority Leader Matthew Ritter.
During a public hearing in March, the Mashantucket Pequot's Foxwoods company then lent its unquestionable support for internet gambling and sports wagering, with Seth Young, its Executive Director of Online Gaming, holding up New Jersey as the industry's success story, and claiming that Connecticut stands to earn upwards of $127 million in revenue over its first five years.
Connecticut has two Indian casinos, Foxwoods Resort and Mohegan Sun, with the two having established an increasingly strong relationship over the years, including planning on jointly running a new $300 million casino in East Windsor expected to be completed within a couple of years. In the meantime, Foxwoods Resort has already established a free-play online gaming site, and has expressed its desire to launch real-money online gambling games throughout the state, particularly with the support of the Mohegan Tribe.
Issues Emerge
Despite a positive first two months of the year, a number of issues emerged to cloud any further progress on the matter. One of these included a rather scattered approach to online gambling legislation rather than the creation of a single,  more encompassing bill, and as Aresimowicz noted in mid-April:
"I don't know that we're going to finish anything up this session. There's a lot of moving parts and not having a comprehensive plan makes it more difficult."
Adding to the status quo is a failure by the US Department of the Interior to greenlight the updated compacts agreed between the Mohegans and Mashantucket Pequots in order to get their joint casino project off the ground. This in turn has also complicated and delayed any further gambling expansion progress being made in Connecticut.
Sports Betting Another Casualty
A total of nine major bills made progress in the Connecticut legislative this year, but ultimately died after the session ended on May 9th. One of these was a sports wagering bill introduced in March called HB 5307, which also contained provisions for fantasy sports and online gambling. The idea was to put legislation in place in case New Jersey wins its PASPA challenge case in the US Supreme Court, with proponents estimating that the state stands to collect $6.5 million during its first year of operation, rising to $9.1 million the following year.
While HB 5307 was supported by the Connecticut Lottery Corp. and the Mashantucket Pequot Tribe, it never made it to either the House or Senate. Complicating the matter is who would be eligible to operate sports wagering, with Mashantucket Pequot and Mohegan Sun insisting that their current agreement with Connecticut provided them with exclusive right over the industry.
The tribes' opinion was not shared by Attorney General George Jepsen, though, who cautioned legislators to "carefully consider a number of factors before legalizing sports betting." As part of his legal opinion states:
"Amendments to the Compacts would be necessary to authorize the Tribe's sports betting. Thus, our opinion is that the Compacts do not presently authorize the Tribes to conduct sports betting on their reservations. Nor are we aware of any other federal or state law that would be a basis for the Tribes to assert an exclusive right over sports betting."
Special Session Possibilities
While there's always the possibility that special sessions could be called this summer or fall in order to advance legislation, this seems less likely as no comprehensive piece of online gambling and sport legislation currently exists. Instead, the higher probability scenario would therefore involve legislators working together to produce a comprehensive iGambling bill with sufficient co-sponsors and tribal support to stand a realistic chance of passing in 2019.