Negreanu Breaks Even Despite Huge Tournament Wins
Tuesday, January 9th, 2018 | Written by Shane Larson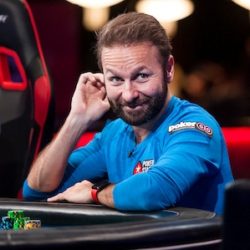 Its difficult not to feel a little envious when you take a look at the Hendon Mob database and see the millions of dollars in winnings earned by poker players throughout their careers. However, not everything is as it appears, which was recently highlighted in a rather revealing article posted by PokerStars Team Pro Daniel Negreanu in his year-end blog.
Negreanu wrote that he won $2,792,104 playing live tournaments during the 2017 season, but as impressive as that may sound, the Canadian pro also posted that he had spent $2,874,164 entering tournaments last year, meaning he actually finished the year $86,140 in the red.
2017 Winnings
As the world number one tournament earner with $35,319,814 in winnings since 1997, Daniel Negreanu has understandably received several lucrative sponsorships over the years. Despite mostly using his own money to enter tournaments, however, Negreanu shrewdly offers staking deals when participating in high buy-in event, such as high rollers, in which other players are able to buy in for a piece of his action.
Against this backdrop, Negreanu subsequently released a statement explaining that his overall result in 2017 showed winning million of dollars in a single year these days was no guarantee of profit. As the 6-time WSOP bracelet winner stated:
"In the old days, before super high rollers, you could all but guarantee that cashing for $2 million would mean the player had a winning year. Well, the truth is, if a player plays the full high roller schedule and cashes for $2 million, they are all but certain to have had a losing year, and that's before expenses.""
5 Year Profits
It's surprising that Negreanu had the year he did considering his skills and reputation in the game. That said, 2017 was still an improvement over 2016 in which he spent $1,546,355 entering tournaments and subsequently won just $302,452 for an overall annual loss of -$1,246,693. That makes two years in a row in which the Canadian poker prodigy has recorded a loss.
On the plus side, Negreanu said that when total results over the past five years are added he was actually in profit by $8,733,074, including being up $1,963,500 in 2013, up $7,100,164 in 2014, and recording a $952,920 profit in 2015. Furthermore, Negreanu's results do not take into account the millions of dollars he earns each year through his various lucrative sponsorship deals.
2017 Goal Success
At the beginning of 2017, Negreanu said that he aimed to win $2.5 million playing live tournaments throughout the year, a goal which he also set back in 2016 but failed to reach it. In addition to succeeding in his task, Negreanu also said that he wanted to win three WSOP bracelets in 2017, but despite not attaining this goal he did at least come close having made a number of WSOP final tables. A third goal of his was to reach 100 cash-ins for his WSOP career, with the pro then managing to surpass that amount by three.
Negreanu's fourth goal was to take back his spot atop the game's 'All-Time Money List', with his subsequent total earnings of $35,319,815 vaulting him past Erik Seidel on $33,277,777. Finally, his fifth goal was to be named the WSOP Player of the Year for a third time, but instead he finished in 11th place as he never took down any major titles in 2017.
2018 Goals
Negreanu has now published another set of top 10 poker goals for 2018. This includes reaching $40 million in total live tournament earnings, or at least $4,680,186 this year; winning another WSOP bracelet, something he's not done since 2013; and reaching 115 WSOP lifetime cashes, therefore requiring another 12 cashes in 2018.
Other goals of his for the year ahead include ending his losing streak by securing $2 million in profits; entering the top 30 of the Global Player Index; reaching the final table of either the One Drop Tournament or Super High Roller Bowl; and winning the US Poker Open. Negreanu is noted for being a poker players who sets himself more goals than any of his other competitors and his final three goals for 2018 include staying on top of the All-Time Money List, winning a Super High Roller Tournament, and spending 120 hours studying and improving his overall skills at poker.