Maryland Gambling Market Enjoys Record FY2018
Thursday, August 9th, 2018 | Written by Charles Washington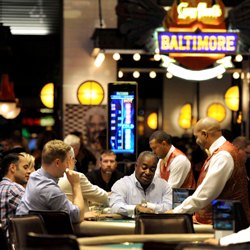 In July, Maryland's six casinos generated a combined $146.5 million in revenue, representing a 5.6% increase compared to the $138.7 million collected during the same month last year. As far as month-on-month revenues are concerned, Maryland's casino market has now contracted for two consecutive months since hitting a record high of $156.5 million in May.
The Free State subsequently collected $60.5 million by way of gambling taxes in July, according to the latest results released by the Maryland Lottery and Gaming Control Commission. By far the biggest beneficiary of the industry was the state's Education Trust Fund which received $45.4 million of that amount, with the rest funneled towards funds supporting local communities, including public health and safety, the environment, and veteran organizations, as well as the state's horse racing industry.
Casino Market
Last month, four of the state's six casinos reported year-on-year growth, with just Horseshoe Casino Baltimore and Hollywood Casino Perryville bucking the trend. Leading the way in terms of revenue was MGM National Harbor, whose 2,954 slot machines and 187 table games generated revenues of $58.3 million, or 14.9% more than in July 2017. It was then followed by Live! Casino & Hotel, which collected $47.7 million from its 3,997 slot machines and 198 table games, marking a slight 1% improvement year-on-year.
Meanwhile, the Horseshoe Casino Baltimore (2,202 slots, 167 tables) rounded off the state's top three casino earners, despite the venue seeing its revenue decline by 11.1% to $20.4 million in July. Maryland's remaining casinos are all significantly smaller in operation.
Leading the next tier of gambling properties was Ocean Downs Casino (892 slots, 18 tables) which collected 34% more revenue in July at $8.6 million; followed by Hollywood Casino Perryville (822 slots, 22 tables), down by 6.7% to $6.1 million; and finally Rocky Gap Casino Resort (664 slots, 17 tables), higher by 1.5% year-over-year at $5.1 million.
Poker
July's gambling results include revenue from Maryland's four poker rooms, as two of the state's casinos do not currently offer the game. Live! Casino currently offers 50 tables, while MGM National Harbor is close behind with 46 poker tables, which together with the other two poker venues contributed $3.7 million in revenue towards the overall results, an amount around 1% lower versus last July. For the first seven months of 2018, Maryland's poker rooms have now raked $25.7 million in revenue.
Casinos Enjoy Stellar FY2018
Maryland generated gross gaming revenue of $1.679 billion for FY2018, marking an 18.2% rise worth $258 million more compared to FY2017. The state subsequently collected $676.7 million in taxes, of which $496.7 million went towards the Maryland Education Trust Fund, with other beneficiaries including local aid grants ($88.4m), the horse racing industry ($71.2m), the General Fund ($15.4m), and responsible gaming programs ($5.3m). Commenting upon the impressive figures, Governor Larry Hogan stated:
"Congratulations to Maryland Lottery and Gaming for an excellent year. The contribution of nearly half a billion dollars to the Education Trust Fund is a tremendous benefit to our state and our schools. We must take action to ensure that these funds supplement and not supplant educational funding, and I urge Maryland voters to support the referendum on the ballot this year to truly create an education lockbox."
Maryland's casino industry also provides jobs for around 7,700 people, of which more than 6,200 are full-time employees.
Lottery Sales at All-Time High
The state's lottery market saw ticket sales reach $2.043 billion in FY2018, of which a record $1.247 billion was awarded in prizes, or 4.2% more than the previous record established in FY2017 of $1.197 billion.
"It's especially gratifying to see both the Lottery and the casinos growing simultaneously," commented Maryland Lottery and Gaming Director Gordon Medenica.
Needless to say, retailers benefited greatly from the game's popularity and earned an impressive $153.7 million via sales commissions, a 5.4% increase versus the previous record set during the 2017 financial year. Overall, the state's 4,500 retailers then earned an average commission of roughly $34,000 each for offering the product.
Sports Betting Next Step?
In May, the US Supreme Court overturned the Professional and Amateur Sports Protection Act (PASPA) in May, thus paving the way for states to legalize and regulate sports betting within their borders. Many of Maryland's neighboring states have since been positioning themselves to take advantage of the opportunity, including New Jersey and Delaware, who have already launched legal sportsbooks; Pennsylvania, which is currently taking applications for sports betting licenses; and West Virginia, which already has a relevant law on its books.
Maryland, on the other hand, has been lagging behind its east coast neighbors in the race towards legal sports betting, and risks falling even further behind as it sports betting bill is now dormant and not presently under consideration by the legislature. Moreover, there has been no special legislative session planned to discuss the piece of legislation, meaning the bill is likely to be stalled until at least 2019.
Highlighting the state's reluctance to plow full steam ahead with sports betting legislation, David Cordish, whose firm owns the Live! casino, stated recently that he wasn't expecting any movement on the issue anytime soon. As he subsequently explained, "when the time comes.. it has to be done right, and I think that's going to take time."