Mandalay Bay Shooting Victims File Lawsuits In California
Home
»
Poker News
» Mandalay Bay Shooting Victims File Lawsuits In California
Wednesday, November 29th, 2017 | Written by Charles Washington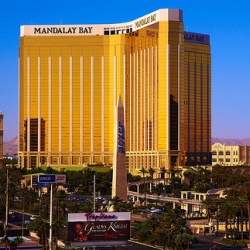 On October 1st, Stephen Paddock was staying on the 32nd floor at the Mandala Bay Hotel in Las Vegas, when he went on a rampage and fired more than 1,100 rounds into a crowd attending the Route 91 Harvest Festival below. Paddock subsequently massacred 58 people, and left over 500 more wounded, making it the worst mass spree killing in US history.
The Mandala Bay Hotel where Paddock carried out his atrocity is owned by MGM Resort, and more than a month later, 450 victims have now filed lawsuits seeking damages against the casino hotel, and the hosts of the concert – Live Nation.
Overview of the Lawsuits
Mandalay Bay and MGM Resorts International are named as defendants in the lawsuit, as a subsidiary of MGM owns the fairgrounds where Route 91 was held. Live Nation- the festival promoter, and the estate of Stephen Paddock were also named as defendants.
In the lawsuit, Mandalay Bay is accused of breaching its duty of reasonable care after failing to notice that Paddock had been hiding a stash of weapons in his hotel room. They also stand accused of failing to call the police immediately after security guard Jesus Campo was shot, giving Paddock even more time to prepare his attack on the 22,000 concertgoers gathered below. Furthermore, the reason why there were so many casualties is being blamed on a total lack of preparation, as it has been asserted that Route 91 did not have enough trained staff or exits to cope with such an attack.
Filed in California
Several lawsuits have been filed in California, not only because many of the victims are state residents, but also because they were legally advised to do so in order to prevent the courts from potentially being influenced by MGM Resorts International based in Nevada.
While the majority of complainants were injured when attending the concert, some security guards have also chosen to pursue legal recourse against Live Nation and Mandalay Bay. As well as being wounded by the rain of bullets, over 100 people were injured by people trampling to escape, and furthermore, there are reports of around 250 people now suffering from post-traumatic stress disorder, with many of the victims currently unable to pay for their medical expenses.
Mass shooting lawsuits are generally filed against arms manufacturers and ammunition dealers, but the Mandalay Bay shooting lawsuits is different in that it emphasizes how MGM Resorts and Live Nation failed to put proper security and emergency procedures into place.
Response from MGM Resorts
Despite being sympathetic to victims of the tragic incident in Las Vegas, MGM Resorts has found itself accused of not being forthcoming over the shooting, with a lawyer for the victims, Chad Pinkerton, asserting that MGM was deliberately trying to maintain a low profile. As he subsequently explained:
"My instinct tells me that's going to be because they wanted to control the environment and message before the public and media was involved. Certainly they didn't know they were going to have an evil act such as this, but they could have anticipated it, they could have foreseen it."
Meanwhile, MGM has said that it isn't surprised by how many lawsuits have been filed against it, with the company having now released a statement explaining that victims would be responded to via legal channels appropriate for the situation.
The Mandalay Bay shooting still continues to be enshrouded in much confusion, with many questions left unanswered. Further compounding a clearer picture of events is that the media has been unable to contact Jesus Campo – the first person to be shot by Paddock. Campo was supposed to meet with the media and recount his experiences of events, but has since suddenly disappeared of the radar, and is currently unavailable to talk about what happened.
With things as they are, conspiracy theorists have claimed that Paddock may have been a member of the radical Islamist terror group called ISIS, but the reality of the matter is that we may never know for sure what happened that night, or what the attacker's motivation may have been. Nevertheless, victims are still determined to be compensated for their tragic experience, and to hold MGM Resorts responsible for not doing enough to keep them safe.