Live Dealer Online Poker: What's in a Name?
Thursday, February 8th, 2018 | Written by Shane Larson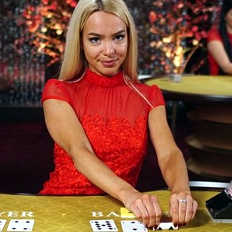 At the start of 2018, New Jersey's online gambling market made yet another progressive move towards diversify its online poker product after the Golden Nugget Atlantic City launched a live Texas Hold'Em dealer game on its online casino platform.
Nevertheless, the move is not as straight forward as has been the case with previous poker products introduced in the state, such as lottery-style sit & goes, because live dealer games blur the line between online casino games and online poker. In fact, American states, as well as countries around the world, have difficulty differentiate between the two products, which becomes a serious issue when licensing, as licenses for casino games and online poker are usually kept separate. Live dealer poker games also complicate efforts to promote poker as a game of skill in the country, and could potentially hinder further efforts towards legalization.
Golden Nugget Leading the Way
For many years, live dealer games have been a popular choice for gamblers visiting online casino sites, with people able to play games such as blackjack and baccarat with a human dealer broadcast from a central location. Part of the attraction is that these type games combine land-based and online experiences for players, who are then able to interact with dealers, ask them questions, and have conversations as the game unfolds.
While poker games have always been included in live dealer options, this is a first for the US-regulated market, though. The Golden Nugget has pioneered the way in this regard, with poker having been added to its selection of other live action games in New Jersey, that includes roulette and blackjack. In this case, the live casino Hold'Em games offered have $1 antes, with the house serving as the bank, and the action unfolding on the Golden Nugget online casino, rather than from a separate internet poker site.
Positive for Poker
This move is generally viewed as being good for growing the game of poker as after casino customers discover and gain more experience at live dealer tables, they may then consider taking the poker skills that they have acquired to other online poker site where they can subsequently utilize learned  strategies to improve their odds of success. It's also good for people that enjoy the accessibility of online poker, but miss the feeling of being at a casino and interacting with dealers and players.
Questionable for Legislation
The Poker Players Alliance (PPA) and other supporters of poker legalization have long-since argued poker is a game of skill, and that good players will eventually win in the end. In other word, skill is a major factor in poker success, which together with well developed strategies helps differentiate poker from other casino games.
While this argument can apply somewhat to online live dealer poker, it nevertheless dilutes the skill message significantly when poker is provided alongside other gambling games, such as roulette. Offering poker through an online casino rather than a dedicated site also reduces the need for dedicated online poker sites, especially for state legislators who may not really understand poker and what makes it unique.
Licensing Complications
Following online gambling legislation being green-lighted in Pennsylvania, it has been decided that online poker and other casino games will be licensed separately. As a result, it will be left up to each individual land-based casino to determine whether it wants to offer just casino games or also host online poker, with each type of license subsequently costing hundreds of thousands of dollar to acquire.
This then raises the question that if a casino is able to offer live dealer poker on its gambling site, is it therefore going to be less willing to offer an online poker product separately? While only time will tell, it must nonetheless be considered a potentially significant factor in determining a casino's decision of whether to apply for just one or two licenses.
Admittedly, there are benefits associated with New Jersey gambling sites also operating separate online poker site, particularly with an opportunity ahead to join shared player pools with other regulated states across the country. Even so, other US states aren't exactly lining up to legalize their industries and join a shared poker network, and in the meantime Nevada and Delaware have actually seen their revenue declines after pooling players.
Therefore, it's hard to tell precisely what benefits will be gained from joining an online poker network, especially with New Jersey and Pennsylvania yet to officially throw in their lot with the shared network already in existence. Ultimately, land-based casino will need to first see rewards being reaped by other poker sites before launching poker sites of their own. They will also need to appreciate the difference between traditional online poker and live dealer poker in order to make an informed decision on the issue, which may not be so straightforward considering live dealer poker continues to blur the line in small regulated markets.