Liv Boeree Engages Audience at Her Second TED Talk of 2018
Home
»
Poker News
» Liv Boeree Engages Audience at Her Second TED Talk of 2018
Friday, October 5th, 2018 | Written by Stephen Smith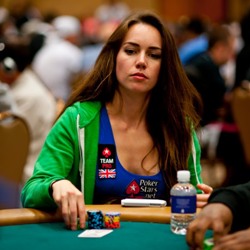 Liv Boeree has been an inspiration for women poker players for more than a decade now, and regularly shares her pearls of wisdom via social media, during television interviews, or in her many poker articles. In 2018, the UK poker pro has also taken her message to the popular TED talk arena, and in February gave a talk in Manchester, UK, followed a month later by another at the main TED conference held annually in Vancouver, Canada.
Continuing on from her first fourteen minute talk entitled 'A Number Speaks a Thousand Words', the PokerStars Team Pro's more recent talk called "3 Lessons on Decision-Making from a Poker Champion" explored ways in which playing poker can improve one's general decision-making in life. During her six minute slot, Boeree divided her talk into three main categories, namely the contributions luck, quantification, and intuition can make to overall success in the real world.
Background
In 2005, Liv Boeree graduated from Manchester University with a first class degree in Astrophysics, and after moving to London applied to appear on a reality TV show called UltimatePoker.com Showdown, whose winner would eventually walk away with a £100,000 top prize. As a contestant on the show, Boeree received poker training from three of the game's greats, Phil Hellmuth, Annie Duke, and Dave Ulliott.
In 2008, Boeree was snapped up as a sponsored pro by Absolute Poker, and that year won her first title after taking down the $2k Ladbrokes European Ladies Championships for $42,000. In April 2010, however, Boeree won her biggest score to date following victory at the €5,300 EPT Sanremo Main Event for €1,250,000 ($1,698,300), after which she was recruited by the world's largest online poker room, PokerStars.
Boeree has since gone on to amass $3,795,956 in live winnings throughout her career, placing her at number 5 on poker's 'Women's All Time Money List', and last year she captured a WSOP bracelet after taking down the $10k NLHE Tag Team Championship alongside her boyfriend Igor Kurganov. Boeree has also won a further $893,937 competing at online tournaments at her sponsored site.
3 Lessons on Decision-Making
In Boeree's first TEDx talk she explored the benefits of thinking in probabilities in order to improve one's ability to make better everyday life decisions. During her latest topic, Boeree highlighted some of the decision making lessons she has learned from her years playing poker at the highest level, which she explains can readily be applied to everyday life.
Boeree's first lesson involves realizing that "like poker, life is also a game of skill and luck," and that appreciating this balance will allow a person to be more realistic of their own skills, thus allowing them to make decisions less affected by ego or overconfidence. In the second lesson, Boeree explains that expressing various outcomes in probabilities, instead of broad terms like "maybe" or "probably," will enable a person to plan more effectively for the future. The final lessons warns against overestimating the value of intuition, especially when data through careful analysis is on hand to help develop a more informed decision.
"While we shouldn't ignore our intuitions, we shouldn't overprivilege them either," explained Boeree.
The UK pro ended her lecture by stating that while the future is unknown, one should still at least try one's best to estimate it.
TED Talk
Founded in 1984, TED conferences have since expanded its technology and entertainment remit to also include a whole range of other areas related to science, culture, and academia. These days, TED (technology, entertainment, design) hosts live events throughout the year across North America, Europe and Asia, with live streaming and subsequent videos posted online.
Over the years, TED has gained a reputation for excellence, with past speakers including Nobel Prize winners, a former US president, captains of industry, university professors, as well as people from across all walks of life. This includes the likes of Bill Clinton, Stephen Hawking, Google founders Larry Page and Sergey Brin, and Bill Gates.
Speakers are generally required to memorize their speeches and deliver a note-free lecture, complete with personal examples and visual aids to better engage the audience. During her first Tedx talk, Boeree apparently spent between 40-50 hours compiling her speech, followed by around two weeks worth of rehearsals.