Japan Studying Gambling Addiction Controls Introduced by Other Asia Countries
Home
»
Poker News
» Japan Studying Gambling Addiction Controls Introduced by Other Asia Countries
Wednesday, September 5th, 2018 | Written by Charles Washington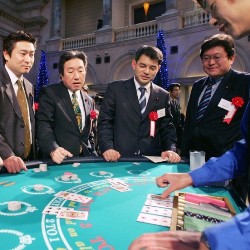 In December 2016, Japan finally legalized casino gambling, while this summer the IR Implementation bill was subsequently passed by the Japanese Diet allowing for up to three integrated casino resorts to be built in the country of 127 million people. All along the way, industry proponents had to deal with concerns cited by politicians and ordinary citizens alike about an ensuing potential surge in problem gambling.
Now that Japan is expected to open its first casino sometime in the mid-2020s, such legitimate concerns are beginning to loom larger on the horizon. Against this backdrop, politicians are becoming increasingly focused on the different ways in which other Asian countries have been able to control gambling addiction, whilst also ensuring the economic benefits of their casinos.
Japan's High Addiction Rate
Whenever a country or state debates whether to legalize gambling within its borders, the main problem brought up by opponents concerns the potential for an increase in societal problems caused by gambling addiction. Even Japan's well ordered society is not free from the industry's fallout, and according to a 2017 survey released by Japan's Ministry of Health, Labor, and Welfare, around 3.6% of the country's adults, or 3.2 million people, are believed to have suffered from gambling addiction at some stage in their life.
This is a surprisingly high figure compared to the rates noted in other industrialized nations, such as France (1.2%), and the Netherlands (1.9%). While Japanese gamblers are drawn towards the country's Pachinko and slot machine parlors, as well as horse, boat, and bicycle racing venues that offer betting options, the situation is likely to get exponentially worse after Japan adds casino gambling to its gambling mix sometime in the mid-2020s.
Consequently, Japan is currently exploring all possible regulatory precautions to ensure its potential problem gamblers are protected from the industry's allure, while also fostering an atmosphere that will allows casual gamblers to enjoy all the entertainment the industry has to offer.
Macau in China
Before 2001, Hong Kong billionaire Stanley Ho had enjoyed a four-decade long monopoly over the country's only legal gambling market of Macau. After the government liberated the industry, it soon grew into the "gambling capital of the world", and by 2007 had overtaken the Las Vegas Strip in terms of gambling revenues.
Nevertheless, gambling addiction soon became an issue for Macau, and in the early 2000's policies were introduced to address the troubling situation. Responsible Gaming then became the order of the day, with one system introduced allowing the casino to ban a customer at the request of a person's family or friends. Between 2003 and 2016, the number of gambling addicts on the island subsequently dropped from 4.3% to 2.5%, marking a significant success for authorities.
In 2016, Melco Resorts & Entertainment, which currently operates the City of Dreams Macau, innovated its approach further by introducing a facial recognition system capable of identifying those with a history of gambling problems, who could then be denied admittance to the casino. In addition, the casino has employees tasked with keeping a close eye on individuals, reminding overly excited customers to calm down, whilst rooting out those players showing signs of gambling addiction.
Singapore
Singapore's casino industry consists of two mega-casinos, namely the Marina Bay Sands and the Resorts World Sentosa, which opened for business in 2010. In fact, the term integrated resort (IR) was first used to describe the major resort properties, which has since become the term adopted by the worldwide hospitality industry.
One way in which the island country has managed to reduce the potential for problem gambling is by introducing a SG$100 (US$72) casino entrance charge for citizens, in addition to an annual SG$2,000 (US$1,450) fee, both of which do not apply to non-Singaporeans.
Australia
In Victoria, Australia's most populated state, casinos give patrons the option to set for themselves betting and time limits, either online or at the casino itself. This then allows customers to be monitored by trained staff, who will subsequently notify them once they reach 70%, 90%, and 100% of their preferred limit.
South Korea
Meanwhile, South Korea has a casino market which mostly caters to foreign visitors, with just one of its 18 casinos legally open to citizens, namely Kangwon Land in the remote mountainous region of Gangwon Province. Keen to ensure that locals do not fall prey to addiction, South Koreans are subject to a strict visitation restriction of 15 times per month, with anyone having reached the limit over two consecutive months temporarily banned from further access. At which point, they are also required to attend a special anti-addiction class held at the casino funded Kangwon Land Addiction Care Center (KLACC).
The addiction management center offers a program that includes paying some of the hospital costs for treatment, and even providing training and jobs to people once discharged from the program. There are also other financial incentives available for KLACC participants, and as mentioned in an article written by Koreabizwire.com:
"Participants who join the KLACC's anti-gambling addiction effort are encouraged to refrain from habitual casino visits, and can benefit from an incentive of 50,000 (US$45) won for each day that they abstain from going to the casino, up to a maximum of 500,000 (US$445) won."
Responsible Gaming in Japan
Japan has been slow and deliberate in its efforts to fully regulate its gambling industry, and open the three integrated casino resorts allowed under law. This has allowed legislators ample time to study other Asian markets and incorporate some of their best solutions in order to prevent and limit problem gambling in Japan.
So far, this includes charging Japanese citizens around USD$50 to enter a casino, as well as restricting the number of their casino visits to just 3 times per week, and 10 times per month. Japan is also looking to involve society in the monitoring process by allowing family members to write to the casino(s) informing them of gambling addiction related concerns involving family members or loved ones, who can then be prohibited from visiting the venues.
Whatever gambling regulation Japan introduces, authorities will be closely examining the situation after its integrated casino resorts are opened. They will subsequently be able to test the effectiveness of their policies, and be ready to adjust their problem gambling measures whenever necessary.