Italy's Government Wants to Replace Slots with Pinball Machines
Home
»
Poker News
» Italy's Government Wants to Replace Slots with Pinball Machines
Monday, August 20th, 2018 | Written by Lucy Brown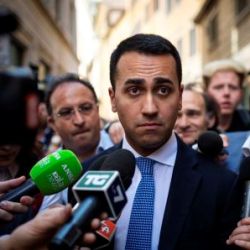 In June, Italy's new coalition government consisting of the Northern League (right-populist) and the Five Star Movement (left-populist) took office, in the process becoming Western Europe's first anti-establishment government. Even before coming to power, the coalition had caused a stir on the continent with its anti-immigrant and anti-EU views, compounded by comments by its European Affairs Minister Paolo Savona who recently declared that "Germany has not changed its vision of its role in Europe since the end of Nazism".
The gambling industry has been particularly affected by the governemtn's radical approach, especially after it moved to introduce an advertising ban on all types of gambling, with all present advertisers having to complete their present contracts by January 1st of 2019. In the latest bit of bad news to hit the sector, Deputy Prime Minister Luigi Di Maio (photo) has now signaled his government's intention to do away with slot machines in Italy, and replace them with pinball machines "which harm no-one". As he subsequently stated in a tweet made after the infamous 'Dignity Decree' was passed, "Raise your hand if you agree."
Dignity Decree
The new Italian government's first legislative act was to pass its flagship "Dignity Decree", which aims to increase job security in Italy via a slew of different measures, including by limiting temporary job contracts, and penalizing those companies choosing to move their production offshore.
The package also addresses their concerns regarding gambling activity inside the country, which Di Maio describes as a "social emergency" that has harmed the finances of families, and targeted the most vulnerable members of society. As a result, big penalties await any firm transgressing the new advertising rules, with severe fines set at a minimum of €50,000, and representing between 5%-20% of the value of their individual sponsorship contract. In addition, a €500k fine will be imposed on any company seen to be targeting underage gamblers.
Slot Machine Clampdown
Italy has rung up a huge €2.3 trillion debt load, and desperately needs to preserve all its current revenue streams. Its gambling industry has proved to be a lucrative source of funds in the past, and last year the sector contributed €10 billion in taxes and license fees, including €6 billion from its slot machine and video lottery terminals (VLT).
In fact, Italy is the continent's second biggest gambling market, but at the same time has experienced an upsurge in gambling addiction cases being reported, which reached 17 million people in 2017, up from just 10 million in 2014. The previous government subsequently imposed draconian restrictions on slots machines, which saw them pulled from bars and their overall numbers reduced by a massive 35%.
Pinball Never Ruined Anyone
In the government's latest attack on the slot machine industry, Di Maio has said that he would like to see all video gaming and slot machines to be replaced by pinball machines. Pinball games in their modern form were born during the 19th century, before being electrified in 1933. By the end of the 1990s, however, the industry was in decline, although that hasn't stopped the 32 year-old politician from believing that these old-fashioned mechanical games are due for a popular comeback.
"Pinballs have never ruined anyone," he said.
They may end up ruining the country's thriving slots machine industry, though, as they are incapable of raising the same kind of income that are ordinarily generated by slot machines.
Industry Opposition
Needless to say, Italy's 'Dignity Decree' has generated a backlash from gambling firms and advocate groups. The European Gaming and Betting Association (EGBA) and La Lega Operatori di Gioco (LOGiCO), for instance, have warned that Italy's soccer league is set to lose €120 million in annual sponsorship revenue as a result. The latter organization, whose members include gambling firms such as William Hill, Bet365, and The Stars Group, has also warned Italian officials that the ban will ultimately prove counterproductive, and in a letter addressed to parliament on July 29th, wrote:
"A ban will push more consumers to unregulated websites that do not protect them. Without advertising, black market gambling will only increase. It will increase because Italian consumers will not be informed or directed to those websites that are licensed in Italy and away from those that are not."
There are signs that this is already taking place and, according to Brad Allen from EGR Global, the country's Google search engine is starting to elevate the ranking of unlicensed websites at the expense of their licensed counterparts.