Hennigan and Eskandani Inducted into Poker Hall of Fame
Home
»
Poker News
» Hennigan and Eskandani Inducted into Poker Hall of Fame
Thursday, July 19th, 2018 | Written by Charles Washington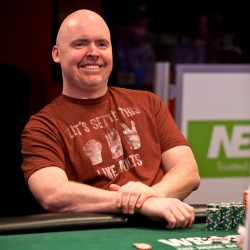 As has become customary, the Poker Hall of Fame welcomed two more members to its ranks just as this year's World Series of Poker Main Event was reached, with its latest inductees being top pro John Hennigan, and television poker program executive Mori Eskandani. The enshrinement ceremony took place on July 12th at the Rio All-Suite Hotel & Casino, and brings the exclusive club's number of inductees to 56 since its inception in 1979, of which 24 are still living.
Meanwhile, Maria Ho and Lupe Soto entered the Women in Poker Hall of Fame (WiPHoF) a couple of weeks earlier at the Orleans Casino in Las Vegas, with the latter, interestingly having been one of the founders of the institution back in 2008.
John Hennigan
John Hennigan entered the Poker Hall of Fame after being nominated this year for the very first time. The 48 year-old pro from Pennsylvania has earned an impressive $8,116,401 since his first cash back in 1997, and over the years has captured 5 WSOP bracelets, including in 2002 ($2,000 H.O.R.S.E.), 2004 ($5,000 Limit Hold'em), 2014 ($50,000 The Poker Players Championship), 2016 ($10,000 2-7 Triple Draw Lowball Championship), and this year at the $10,000 H.O.R.S.E. Championship.
In fact, Hennigan made an incredible six final tables at the 2018 WSOP, and has a realistic shot of topping the 2018 WSOP POY Leaderboard, as he is currently in 4th place on 3,499.91 points. Hennigan certainly has the respect of his peers, too, with the six-times bracelet winner Daniel Negreanu describing him as the best player he has ever faced. Commenting upon his induction, Hennigan stated:
"I'm very excited by this news and grateful that it came at a point in my career when I was mature enough to be honored by it, because I am. Thanks to everyone who voted for me!"
Mori Eskandani
Mori Eskandani is an avid poker player with $566,742 in tournament winnings to his name, despite primarily being a veteran cash game player. Nevertheless, Eskandani was inducted in to the Hall of Fame for being the person largely responsible for introducing poker programs into your home, and for also utilizing the newly invented hole card camera in order to raise the popularity of poker to a whole new level.
In other words, the Iranian born entrepreneur has played a key role in turning poker into a spectator sport, and amongst the numerous popular shows he has created over the years are such classics as Poker After Dark, High Stakes Poker, and The National Heads-up Championship, to name but a few. As the WSOP explains in a statement:
"Eskandani has helped bring the game of poker to the masses and ensure the game is always front and center with the public from a television medium standpoint."
Maria Ho
On June 26th, just ahead of this year's World Series of Poker, Maria Ho was inducted into the Women in Poker Hall of Fame, with her entry demonstrating how strong women have the ability to influence the industry. Throughout a career stretching back to 2005, the Taiwanese American pro has amassed $2,843,537 in live earnings, including in 2011 finishing runner-up at the 2011 WSOP $5,000 No Limit Hold'em event for $540,020.
The 35 year-old player has also been the WSOP Main Event's 'Last Woman Standing' on four different occasions. This includes in 2007 being eliminated in 38th place for $237,865; in 2011 finishing the WSOP Europe in 27th place for €32,000 ($42,748); and in 2014 recording a 77th place finish in Las Vegas worth $85,812. In 2017, she then made the WSOP Europe Main Event final table, eventually bowing out in 6th place for a €174,365 ($202,875) payday.
Maria Ho is equally recognized for being a top ranked female presenter and television host, and has been invited to appear on a wide range of poker and other type shows. In fact, Ho was the first female in history to be hired as a strategic commentator on a poker TV broadcast, and over the years has been an ambassador for Amazon eSports, and a
celebrity spokesperson for WinStar World Casino. Commenting upon her induction, Daniel Negreanu explained:
"Her empathy never takes a day off, and that just to me describes so well the friend that I have known for ten years. I honestly believe that it's her empathy that makes her such a great poker player. I think poker is actually very very lucky to have someone like Maria in it because she's the best ambassador you could ask for."
Lupe Soto
What can one say about a woman who actually started the Women in Poker Hall of Fame in 2008, and currently serves as the CEO of Poker Gives, a poker fundraising charity that supports humanitarian efforts for military families and homeless vets. In fact, Linda Johnson, a WiPHoF and Poker HoF member herself, summed it up best at Soto's induction ceremony when she said:
"If this was jeopardy, and the answer was Lupe Soto, the question would be, 'Who has done the most for women in poker over the last twenty years?'"
Counted amongst her other illustrious achievements is starting the Senior Poker Tour in 2013, and the Women's Poker Association (WPA) in 2018.