Georgia Casino Legislation Not Promising in 2018
Wednesday, January 10th, 2018 | Written by Adam Brown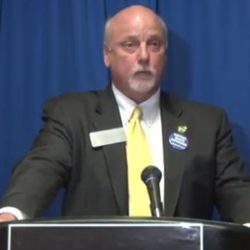 As nice as it is to live in Georgia, there's nothing going on as far as gambling is concerned outside of the state lottery. In fact, you'd have to drive all the way to North Carolina just to play in a legitimate casino, and unfortunately that situation is unlikely to change in 2018.
Pessimism Abounds
While it's barely a fortnight since the new year started, the Atlanta Journal Constitution is already reporting that efforts to legalize casinos in the Peach State are over before they have even begun. The most recent effort to introduce a casino gaming industry to Georgia was made at the start of 2017 when Georgia State Senator Brandon Beach (photo) sponsored and introduced a piece of legislation referred to as SB79.
If SB79 had passed, Georgia would have been free to license two integrated casino resorts on par with the impressive ones located in Las Vegas. The first would have been a mammoth development that would have needed to be built in a county with a convention center and at least 900,000 residents. The successful applicants would then be required to spend at least $2 billion on the new casino, and commit to building a hotel with more than 1,000 rooms. The second casino, on the other hand, should cost at least $450 million to build, and be located in a county of at least 250,000 people. Unfortunately, though, the bill never got off the ground.
MGM Resorts Interested
Over the last couple of years, MGM Resorts International has pitched its idea of constructing a $1.4 billion resort in Georgia complete with everything to be found at a Las Vegas style property, including hotels, restaurants, and the casino itself. Furthermore, polls have shown that state residents appear warm to the idea of such a casino, although at the same time there has been some push back from religious groups and conservatives living in the area.
In addition, several business groups have also expressed concern over the prospect of legalized casinos, feeling they would do more harm than good. Amongst their concerns is the possibility that if a casino was to open up then it would no doubt book all the most popular entertainment acts coming to the area, meaning local theaters and arts centers would subsequently suffer.
Little Political Support
All three of the top political leaders in Georgia have said that they are against legal casinos being introduced in the state, including Governor Nathan Deal, Lt. Governor Casey Cagle, and House Speaker David Ralston. On a slightly more positive note, Atlanta mayor Keisha Lance Bottoms has said that while she did not necessarily approve of casino gambling, the reality is that Georgians still continue to gamble, and have been traveling out of state in order to do so.
This is what has happened in the Mid-Atlantic states, and is why Pennsylvania, New Jersey, Delaware and Maryland have been busy opening casinos, not to mention legalizing online gambling, with the exception of Maryland. In other words, people that want to gamble are going to travel to the nearest state that will allow them to do so, even if their own home state do not.
The point that Lance Bottoms makes has also been taken up by MGM's executive VP of global corporate communications, Alan M. Feldman, who explains that much needed tax revenues from their gambling activities is being wasted and are not being used to support much needed programs back in Georgian.
"As the conversation continues, it's important to consider the reality at hand: Georgians are already gambling at casinos in North Carolina and Alabama, and the tax revenue from that activity is not supporting much-needed programs in Georgia but instead is flowing from local communities to neighboring states," explained Feldman.
Much-Needed Program Funding
Amongst the programs Feldman was alluding to is Georgia's HOPE Scholarship, which is currently funded by the state lottery and is designed to help high school graduates find places at Georgia's colleges and universities.This scholarship program was started in 1993, and what makes the HOPE Scholarship so great is that almost every college is eligible, so students don't need to go to public university.
There's also the Zell Miller Scholarship, which provides full tuition for public colleges and universities in the state for exceptional high school students, with both programs certainly in need of extra money.
Election Year
Another potential reason that gambling legislation may not advance or even be addressed this year is because 2018 happens to be an election year. Even though House Economic Development and Tourism Chairman Ron Stephen has promised to do everything he can to legalize gambling in Georgia, he admits that half the Senate are campaigning with other goals in mind. Therefore, it's going to be tough to get anything that sounds remotely controversial passed in 2018, with legalized gambling obviously a controversial issue that many politicians will choose to leave alone.