First Casino in Massachusetts History to Open on Friday
Home
»
Poker News
» First Casino in Massachusetts History to Open on Friday
Tuesday, August 21st, 2018 | Written by Charles Washington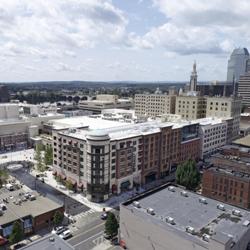 The first commercial casino in Massachusetts history is set to open its doors on Friday, August 24th. The milestone day will kick-off at 10:30 a.m with a parade on the corner of State and Main streets, with numerous other surprise entertainments organized to mark the occasion. Needless to say, its grand opening is already causing a buzz of excitement in the community, and as Saverio Mancini, director of communications for MGM Springfield, explains:
"We have been counting down the days and hours until we open our doors. The anticipation from everyone involved is at a fever pitch and we are more excited now than ever to see this all become a reality."
MGM Springfield
The huge $960 million development covers a three block area of downtown Springfield, the state's third most populous city with more than 154,000 residents, and also the biggest city in western New England. Its huge 252-roomed hotel can be accessed via an entrance located on the intersection of Main and Howard Street, with its variety of amenities including various restaurants, bars, shops, and a convention space area.
Of course, one of MGM Springfield's biggest draws will be its 125,000-square-foot casino that will feature 2,550 slot machines and 120 gaming tables, as well as a poker room and VIP gaming area. Nevertheless, there are plenty of other recreational activities to enjoy, including a Topgolf Swing Suite, Regal Cinema theater, and full-service spa complete with an 8,000-square-foot pool.
Opening Weekend
As mentioned, the resort's opening festivities will begin with a parade outside of the venue on Friday at 10:30 a.m, led by the Budweiser Clydesdales, a famous group of Clydesdale draft horses owned by the Anheuser-Busch Brewing Company. The venue's doors will subsequently open for business at 11 a.m., after which it will stay open for 24 hours a day, and seven days a week. At 7:30 p.m. the following day, MGM Springfield's open air plaza will feature the band Flowers & Kain, before at 8 p.m. introducing local musical talent the Dropkick Murphys, with tickets currently available at $10 each.
No Smoking Casino
Like 800 or more casinos across the country, MGM Springfield is a strictly non-smoking venue, although certain outdoor areas outside of the casino will be designated for smokers. This satisfies a requirement laid out in the state's expanded gaming laws introduced in 2011. Furthermore, the industry sees a smoke-free environment as a way of attracting more millennials to casinos, as this generational group is more anti-smoking than their predecessors, and as such have a very low rate of smoking.
Saverio Mancini says that he doesn't expect the casino's smoke-free policy to have much of a negative impact on its business, stating that factors such as "regional gaming competition, driving distance, weather and socioeconomic conditions" tend to have a more pronounced influence on overall casino revenues.
3,000 New Jobs
MGM Resorts has set a target of creating 3,000 new jobs opportunities for the state, with 2,700 people having already received contracts, and another 300 or so currently awaiting licensing or background checks. Springfield residents account for 36.6% of the jobs already allocated, with 52.8% going to minorities, and commenting upon the situation, Wanda Gispert, MGM Resorts Regional VP of Talent & Workforce Development, stated:
"At MGM, we never stop hiring and looking for exceptional local talent. Our local partnerships have been key to our hiring success. We are well on our way to exceeding many workforce goals that were set for MGM Springfield, but to keep pace and support a 24-hour, 365-day resort, we can't slow down now."
Economic Impact
In 2011, Governor Deval Patrick approved a bill to permit three casinos and one slot parlor in the Free State. In 2015, Plainridge Park Casino became the state's first racino to open, and after MGM Springfield is set to become the first of the state's casinos, the $2 billion Wynn Boston Harbor is expected to follow suit next year. Meanwhile, the Mashpee Wampanoag tribe initially received the green-light to build a casino in Taunton in the southeastern part of Massachusetts, but that project has since been put on hold following objections expressed by locals.
Once the whole casino market is established, however, it is forecast to provide employment for more than 15,000 people, and generate about $300 million in tax revenues each year for the state. That figure may well be lower, though, as Plainridge Park Casino originally predicted its annual income to be $262 million, but last year it generated just $164.8 million in gross gambling revenue, of which around half was paid in taxes.