Exciting Gambling Innovations to Look Forward to Before 2020
Home
»
Poker News
» Exciting Gambling Innovations to Look Forward to Before 2020
Thursday, October 12th, 2017 | Written by Shane Larson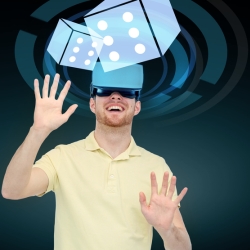 The evolution of technology has had a huge impact on the global gambling industry, with new innovations constantly being adopted by companies as a result. Read on to see the ways in which technology continues to reshape the industry, and some of the changes we might notice before the year 2020.
ESports Betting
The eSports industry is undeniable one of the most up and coming sectors of the gambling industry, and it is thought that the revenue generated by this industry could soar past $1.5 billion by the year 2020. Because of this, it is understandable that gaming analysts see eSports becoming an increasingly important part of the gambling industry, especially considering the exponential growth already noted at eSports tournaments taking place each year around the world.
This is also evident by the ever increasing prizes being offered by some of the more popular competitions. The inaugural 2011 League of Legends Championship, for instance, had a $100,000 prize pool, and a viewership of 1.6 million people, but last year the prize pool had risen to $6.7 million, while the competition attracted a massive 43 million viewers.
The same situation also applies to Dota 2 International tournament, whose 2011 debut featured a $1 million first place prize, while this year's latest event is offering a whopping first place prize worth $10.8 million.
Virtual Reality
Virtual reality technology, or VR, has become something of a big deal over the last few years, particularly after a number of recent virtual reality releases have breathed new life into what was thought to be a passing fad a few years back. Such innovations include Playstation VR, the Oculus Rift and Samsung Gear VR. Because of this, the gambling industry has been buzzing about how to incorporate the technology into its products and services, and already some virtual reality casinos have sprung up online, including SlotsMillion VR and Casino VR.
Even though some of these virtual reality casinos have had some problems finding their footing, such as messy graphics, and in the area of peer-to-peer communication, it is still an industry that is slowly finding its potential. After all, those who like virtual reality will enjoy the chance to play all of the same games and have the same experiences as they would otherwise at land-based gaming venues, but in a realistic way from the comfort of their own homes.
Mobile Platforms
Last year, mobile gaming revenues finally exceeded those generated by the computer console and PC gaming sector. In fact, mobile gaming revenues reached almost $37 billion in 2016, while those for PC consoles came in at around $32 billion, and computer console at 29 billion.
This was a landmark moment for the gambling industry, especially as the shift was mostly as a result of a soaring interest in mobile platforms. Mobile gaming has continued to maintain its momentum, too, with players enjoying having games to play on the go. Consequently, the gambling industry has been quick to capitalize upon the growing trend, with internet casinos transferring much of their operations onto mobile platforms, which now represent the future of the gambling industry.
Legal Regulations
Europe currently accounts for around half of all worldwide online gambling revenues, while many other continents and countries around the world have been unable to make the most of their respective industries due to restrictive gambling legislation. In the US, for instance, laws such as the 1961 Wire Act, or Unlawful Internet Gambling Enforcement Act (UIGEA) of 2006 have placed a dampener on the country's once thriving online gambling market.
However, the situation has gradually been changing for the better, with the 2011 reinterpretation of UIGEA allowing individual states to adopt online gambling legislation if they so wished. Already Nevada, Delaware and New Jersey have taken advantage of the situation, with other states also considering following suit.
Cryptocurrencies
The invention and rise of cryptocurrencies since Satoshi Nakamoto invented Bitcoin in 2009 has resulted in an estimated 6 million using the currency today, with that number even higher when one considers other digital currencies in use, such as Ethereum, and Primecoin. Many of these people are likely to also be using cryptocurrencies to fund their gambling online, and these days a number of Bitcoin-specific casinos have been launched to meet this increasing demand.