Doug Polk Complete $100-$10k Challenge After Tripling Bankroll on Final Session
Home
»
Poker News
» Doug Polk Complete $100-$10k Challenge After Tripling Bankroll on Final Session
Friday, August 24th, 2018 | Written by Shane Larson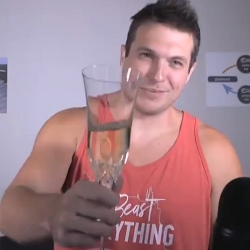 In 2016, Doug Polk set out to prove that it was still possible to deposit $100 at an online poker site and turn it into $10,000 by playing through the different stake levels. After 58 individual sessions on Nevada online poker site WSOP.com, the 29 year-old pro finally completed the task this week, having boosted his bankroll from $1,336 to $10,100 between August 10-22 over the space of just four of those sessions.
During Polk's $100-to-$10,000 Bankroll Challenge, he worked his way up from initially playing $2NL ($0.01/0.02) cash games to competing at 500NL ($25/50) on his final session. In so doing, Polk subsequently silenced those critics who had been saying micro-stakes poker was unbeatable and that his challenge was doomed to fail. Having moved past the finishing line while Twitch streaming, a jubilant Polk then announced to his audience:
"We did it, guys. We won the challenge. Holy sh*t. We won the challenge. I don't have to play any more poker on WSOP."
$100 to $10k Challenge
Kicking-off his challenge on 7th August 2016, Doug Polk managed to increase his $100 bankroll to a peak of $3,585 by 5th April 2017 (Day 30) before it took a massive nosedive to just $927 (Day 36) on November 16th. Afterwards, Polk couldn't seem to catch a break with his bankroll languishing in the low $1,000 area before the first of his mega-winning sessions starting August 12th (Day 55) saw his roll increase to $2,303. The following session he then boosted his winnings to $3,320, and after one more session in which he lost just $2 after 11 hours of play, he subsequently tripled his bankroll from $3,318 to $10,100 on Day 58 to close out his challenge.
Final Session
On the final day, Polk decided to bat above his $3,318 bankroll and take a 500NL shot at $2/$5 no-limit hold'em cash games. While this would be considered beyond reasonable bankroll management, fortune favors the brave and Polk proceeded to hit monster hands and win a few suckouts to boost his bankroll to $6,000 after four hours of play.
At this point, Polk decided to push on and try and complete his challenge the very same night. Whilst continuing to enjoy a good run of cards and deals, the pro was also playing an impressive game and pulling off impressive bluffs to eventually complete his $10k challenge at an appropriate 10 pm.
Time For a Break
Doug Polk is one of poker's most skilled players, and throughout a career stretching back to 2011 has amassed 3 WSOP and $9,454,008 in winnings on the live tournament circuit. He is also a cash game specialists who is considered one of the best heads-up no limit hold'em players in the world. Nevertheless, Polk has a wide range of interests and over the years has occupied himself by running poker training site Upswing Poker, as well as producing news, poker and cryptocurrency content for his various YouTube channels.
After taking flack recently for not completing his challenge, Polk was evidently elated to have answered his detractors less than a fortnight later in the best possible way. He then announced that he was ready to take another extended break from the game, and in his own indomitable fashion stated:
"I love poker. I really do. But playing poker is boring to me now. You only live once. I don't want to spend my time doing things that don't make me happy. I feel like I've done everything (in poker)."
Sharing Insights
As mentioned, Polk is as accomplished a trainer as he is a player, and after working his way up through the micro-stakes to eventually complete his impressive task, the pro took to Twitter to provide seven insights gained from his time spent on his grind. These include the following observations:
1) Bluffing is very strong at smaller stakes. But in general it varies by street.
Preflop bluffing tends to be good because players dont raise you enough
– Flop bluffing is great because people play too loose vs 3b
– Turn bluffing tends to be dramatically worse
– River is amazing
2) Calling in big pots is much worse. Sort of a necessary evil, particularly as you get ready on players. While streaming, you really cant make big folds because people know what you have. If I hadn't streamed the challenge, I'd have folded a bit more
3) If you play on a smaller player pool site, Cash > Tourneys
4) You have fold equity in spots you would never have at higher stakes. Dont be afraid to slow play some spots where you think they have to call
5) Micro stakes are still extremely soft, building a roll def possible
6) On sites with no HUD, dont be afraid to go ham on some raise frequencies preflop because no one is even going to know what you are up to Those are just some topics off the top of my head, hope it helps some of you guys Once again thanks to everyone who watched the streams😎
7) Overbet bluffing is completely ridiculously good at micros. Go HAM on those nit regs fearlessly!