Delaware's Sports Betting Market Enjoying First-Mover Advantage
Home
»
Poker News
» Delaware's Sports Betting Market Enjoying First-Mover Advantage
Wednesday, August 8th, 2018 | Written by Lucy Brown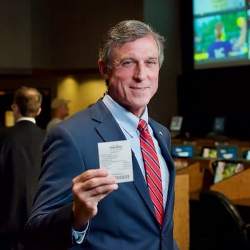 On June 6th, Delaware became the first state to take advantage of the Supreme Court's decision to allow full-scale sports betting, with Governor John Carney (photo) placing the first bet, a $10 punt on the Philadelphia Phillies vs. Chicago Cubs baseball game.
The Governor's bet paid off after the Phillies beat their opponent by 6-1, and the state's sports betting market has similarly enjoyed a stellar start with $15.2 million in wagers having been placed since launch, resulting in around $1,336,442 in net proceeds.
Story So Far
During its first partial month of revenues covering the 20-day period from June 5th to 24th, Delaware's sports betting market collected $7 million from 69,698 wagers. A holding rate of about 14% of those wagers subsequently resulted in around $1 million in revenue, and net proceeds of $875,000.
The latest result released covers a 35-day period from June 25 through July 29, and according to the Delaware Lottery more than $8.2 million was taken from 122,000 bets, resulting in $527,000 in revenue, and net proceeds of $461,226.
Taken together, Delaware has now generated $15,218,490 in handle from 192,184 wagers since the market's launch, leading to net proceeds of $1,336,442, which is a huge amount for a state whose population totals just 961,939 people.
Handle Falls
As can be seen, Delaware's handle has actually fallen over the two periods, and taking their different amount of days into account, period one produced a handle of $350,186 per day, while for period two that number contracted to $234,707 per day. Nevertheless, this does not come as a big surprise as there was always going to be a lot of excitement surrounding the launch of sports betting in Delaware, the first state to offer the full-range of sports wagering product outside of Nevada.
In addition, July is traditionally one of the quietest times on the sporting calendar, corresponding with less betting taking place at the bookies. Furthermore, the numbers are not likely to improve much until the 2018 football season kicks-off in September, after which here should be an exponential increase in betting.
A further hindrance to Delaware's sports betting market going forward is the state not embracing mobile wagering, unlike New Jersey where the options is now available via the DraftKings Sportsbook. Delaware had previously signaled its intention to offer online sports betting, but apparently those plans have now been put on hold.
Delaware Park Leads the Way
As expected, Delaware Park heads the state's sports betting market, with the venue benefiting from its proximity to New Jersey and Pennsylvania, whose biggest city Philadelphia (1.57m) is located just 45-minutes away by car.
Delaware Park has subsequently collected $11,055,907 in sports betting wagers since launch, including $5,823,029 during the 35-day period ending July 29. By contrast, Dover Downs Hotel & Casino has taken $2,854,709, including $1,674,262 for the recent period, while Harrington Raceway & Casino that figure is closer to $1,307,874, including a handle of $717,474 in period two.
Competition Likely to Grow
Delaware was one of four states exempt from the federal sports betting ban that was struck down by the Supreme Court in May. Up until then, the First State offered just NFL parlay betting, but following the ruling it was able to take advantage of already having the legal framework in place by becoming the first state, apart from Nevada, to launch a full-scale sports betting operation.
Delaware even managed to beat New Jersey to the punch, although its neighbor has since entered the space, with Mississippi following suit at the beginning of this month. Meanwhile, Pennsylvania has also legalized sports betting, but has yet to launch its market as operators thus far seem reluctant to apply for sportsbook licenses on account of the $10 million licensing fee, in addition to the exorbitant 36% tax rate being proposed on revenues. This is significantly higher than rates proposed in other states, and as Prof. Chuck Berry from Point Park University explains:
"It's not even close. Most of the states are somewhere between 10 and 20 percent. Nevada is around 7 percent. And we're going to be at 34 percent plus an extra 2 percent, 36 percent, and that doesn't include the federal excise tax as well."
Ultimately, this means that Delaware will benefit from being the nearest sports betting destination for millions of people on the east coast for a while longer, although its status is likely to diminish over time as more states line up to launch legal sports betting industries of their own.