Cryptocurrencies Making Online Poker More Accessible
Home
»
Poker News
» Cryptocurrencies Making Online Poker More Accessible
Thursday, January 11th, 2018 | Written by Stephen Smith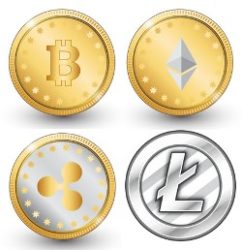 Cryptocurrency supporters have long put forward the argument that their use would make online poker sites around the world more accessible. Whether due to the damage caused to the industry post-Black Friday or the increasing popularity of digital currencies, that suggestion is now being put to the test with numerous sites now allowing players to deposit and withdraw money using cryptocurrencies, and even websites springing up dedicated solely to this exciting new era in online transactions.
Betcoin Pulls Poker Product
As 2017 came to an end, so to did Betcoin's poker operation, which began taking crypto bets years before anyone else did in 2014. The site was never very popular, though, especially amidst allegations of scandals and wrongdoings, with the situation coming to a head after the site was acquired by another company who decided to stop its poker product on Christmas Day. Nevertheless, Betcoin is still continuing to offer casino and sports betting on the site.
In the meantime, SwC (Seals with Clubs) is a bitcoin-only poker site that ran into trouble when its owner, Bryan Micon, was arrested in Las Vegas for running the site without a license. Even though he had hoped to circumvent the law by using bitcoin as the website's currency, he still had to pay a $25k fine and was handed a probationary sentence, after which he rebuilt the site from his new home in Antigua. Furthermore, the site has earned a good reputation thanks to offering immediate cashouts.
Established Sites Adding Cryptocurrency
A number of established poker sites have started introducing cryptocurrency to their deposit and withdrawal options in order to stay competitive and attract new players. In addition to satisfying customer demands, poker players are also natural risk takers, with many already having spent several years investing in cryptocurrencies.
This is especially true of American players as only a select few US states have legal online poker, therefore creating a high demand for playing anonymously on offshore sites. Similarly, many of these gray market sites embrace cryptocurrencies because of the corresponding high player demand. Going crypto further means less transaction fees and faster payment processing compared to traditional methods.
More Crypto-Poker Sites Coming
Some entrepreneurs and professional players feel that there should be more online poker sites dedicated to cryptocurrencies, and have started investing in their development, with a number set to open in 2018.
Virtue Poker
One such site is Virtue Poker, which has Phil Ivey, Brian Rast, and Dan Colman ambassador/investors and will only allow deposits and withdrawals using Etherum. While the original idea for the site came about in 2015, it subsequently took a few more years for things to finally come together, and as the Virtue Poker site states:
"The integrity of gaming software is frequently called into question, player funds are being lost, stolen or seized, and the regulatory response has been fragmented. We are a team of computer scientists and online poker players building this platform to help address the shortfalls of centralized online poker and create a better online experience."
CoinPoker
Another website on the way is CoinPoker, which collected over €5 million in investments through an ICO (initial coin offering), some of which will be offered in poker tournament prize pools when the website launches. The site uses a new kind of Etherum-based cryptocurrency known as CHP tokens that are designed specifically be used by the site's players. CoinPoker boasts some familiar names in the poker world, too, including Michael Josem and Isabelle Mercier. The ICO is set to run into February, with CHP and the first tournament taking place in February.
Cash Poker
The other website set to launch this year is Cash Poker, which initially launched in 2015 with a focus on electronic poker, before adding online poker in 2016. Blockchain technology was then introduced in 2017, with the company running its ICO in Q4 of the year. All being well, the platform is set to be fully operational this year, with players betting with a unique cryptocurrency called CASH tokens, which can be exchanged for Bitcoin, Etherum, and flat money. In addition, players will not only be able to enjoy anonymity, but will also have the ability to integrate their accounts with social media messenger platforms. The company is headed up by CEO Danila Prozorov and COO Yaroslav Dementev, although there are no famous poker players working with the company at this time.