Could Legalized Sports Betting Help iGambling Discussion?
Home
»
Poker News
» Could Legalized Sports Betting Help iGambling Discussion?
Saturday, January 13th, 2018 | Written by Charles Washington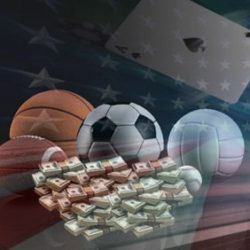 Oregon, Delaware, Montana and Nevada are the only states authorized to provide sports betting under the Professional and Amateur Sports Protection Act (PASPA) of 1992, although only Nevada offers the full range of sports betting products to its residents. The Silver State is also the only state that allows legalized sports betting and online poker, but that could all change following a positive verdict in the Christie vs NCAA Supreme Court case.
Sports and iGambling Connection
States in the US have been able to legalize online gambling since the reinterpretation of the Wire Act in 2011, but so far only four states have done so, namely Nevada, Delaware, New Jersey and more recently Pennsylvania. Furthermore, even though online gambling has been legal in New Jersey since 2013, the federal PASPA law has prohibited the state from establishing its own sports betting industry. As legalized sports betting now becomes the dominant discussion across the country, however, there are also signs to suggest that legalized online gambling has also become an integral part of the debate, and could gain from any advancements made on the issue.
iGambling Along for Ride
If New Jersey wins its Supreme Court case then legalized sports betting could become a main focus again in other states. In addition, there are areas where sports betting laws could also lead to progress on online poker and gambling laws being adopted, and as David Rebuck from the New Jersey Division of Gaming Enforcement, explains:
"If we win sports wagering, online gaming will go to every state that adopts sports betting. As soon as sports wagering is legalized, online gambling will follow right behind it."
While Rebuck's belief seems to be based upon solid logic, it's fair to say that logic doesn't always apply to the complex world of legislation.
Sports Betting in Driving Seat
Things are looking good for sports betting with over a dozen states entering the debate in 2017. Furthermore, daily fantasy sports have also been legalized in many states, which could be considered a gateway to legalized sports betting.
Pennsylvania was one such state, and the only state to legalize online gambling in 2017, with its comprehensive legislation including online poker, casinos, DFS, and live and online sports betting just in the event that New Jersey wins its legal challenge. While Pennsylvania has proven you can do it all at once, some states, on the other hand, are still taking a piecemeal approach.
This includes states such as New York, Connecticut and Mississippi, which are all currently considering sports betting, and are also prime candidates for online gambling. New York, for instance, has been discussing the issue for a number of years and recently launched its own online raffle. Together, these three states have their own land-based casinos ready to support online gambling, while in addition, Kentucky is presently considering legislation to allow land-based casinos and sports betting, which would certainly pave the way for online poker to follow suit.
iGaming Focused States
Some states are continuing to focus on iGaming even though others are pushing for sports betting first. Michigan representative Brandt Iden, for instance, has put together a gaming bill that was initially built around online gaming but has now been expanded to include online sports betting, as well. However, it doesn't mention land-based sports betting even though the state already has commercial and tribal casinos, but nonetheless Iden has said that he is aware of a demand from casino owners to run sportsbooks.
At this point, it is hard to tell what parts of the legislation will eventually make their way to a final version of the bill. While sports betting was only recently added, the legislation concerning online gambling has made its own progress, and Iden believes that the one could follow the other.
Acceptability of Gambling versus iGambling
While sports betting and online gambling could be introduced together, lawmakers from some states are unsure about the "online" aspect, with anti-online gambling arguments seemingly based around a lack of understanding of the technological and practical implications of the industry.
In fact, legislators in these states are still stuck on the same issues that have been debunked many times before, such as underage gambling and cannibalizing land-based casino revenue. However, they seem to ignore the fact that there is technology now available to prevent underage gambling, and that online gambling has actually been shown to increase land-based casino revenues.
There are also states where tribal gaming compacts must be carefully navigated around, and the same could also be said of states with legalized land-based casinos. While such states seem to be comfortable with sports betting, they do not appear to be so happy about online gambling, and there are even states that have constitutional language that must be amended in order for online casinos to ever be legitimized.
Gambling has become more acceptable as a whole in recent years, with more and more land-based casinos opening up across the country. The path to legalizing sports betting – and iGaming with it – is therefore likely to spring from these casinos, but only time will tell if sports betting helps kick start the whole online gambling debate. It also remains to be seen as to how long any tangible advancements on the issue will take.