Anti-Online Gaming Letter Sent to DOJ by US Senators
Home
»
Poker News
» Anti-Online Gaming Letter Sent to DOJ by US Senators
Monday, December 4th, 2017 | Written by Adam Brown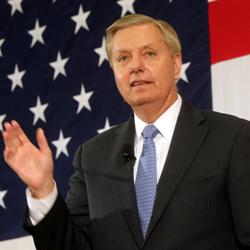 Last month, it seemed as though anti-online gambling campaigners had failed in their efforts to have the industry banned in the United States. Not only had casino billionaire Sheldon Adelson failed to influence Congress into passing the Restoration of America's Wire Act (RAWA), with several of the key members of Congress who received campaign donations from Adelson unable to act on his behalf, but in a further stinging blow online gambling was legalized in Pennsylvania, where Adelson owns the Sands Casino Resort Bethlehem.
Rumors of the bill's demise have been greatly exaggerated, though, as the legislation is once again being brought to the attention of the Department of Justice.
Letter Sent to DOJ
On November 27th, the Poker Players Alliance (PPA) published on social media a letter sent to the DOJ a week earlier by US Deputy Attorney General Rod Rosenstein and signed by US Senators Lindsey Graham (R-SC) and Dianne Feinstein (D-CA).
In the letter, the Congressional bipartisan members reminded the DOJ of a warning that it had issued a number of years earlier about how online gambling would turn mobile devices into mobile casinos because of the DOJ's 2011 reinterpretation of the Wire Act. The outcome of the fateful reversal meant that individual states were subsequently able to legalize online poker or casino games if they so choose to do so. Needless to say, the development caused uproar amongst anti-online gambling groups at the time who warned that the industry would prey on the most vulnerable members of society, and that the FBI would lack the necessary resources to tackle the ensuing 'epidemic'.
Bringing their alarmists concerns to the fore once more, Graham and Feinstein's letter cites November's poker sharing liquidity network between the country's original three regulated states as evidence that their predictions are about to come true, with the senators further noting that several states have now been encouraged to consider online gambling legislation of their own after Pennsylvania also embraced the industry last month.
As the letter subsequently concluded: "Concerns about the proliferation of internet gambling are bipartisan and span the political spectrum. The 2011 DOJ decision needs to be revisited and withdrawn, with the question of whether online casinos should be permitted in the United States properly returned to Congress to determine."
Possibilities for Attorney General
Earlier this year, Jeff Sessions faced a multitude of questions during his confirmation hearing as US Attorney General, with it hardly a surprise that the subject brought up by Lindsey Graham related to 2011 reinterpretation of the Wire Act, and whether Sessions would consider reversing the situation once appointed to the AG position. At the time, Sessions confirmed that he would be willing to do just that.
While this was of great concern for online gambling communities across the USA, Sessions soon had to distance himself from the issue because of his ties to Sheldon Adelson. Specifically, there were concerns surrounding the degree of influence Adelson wielded over Sessions and others legislators, as well as the fact Bloomberg reporters discovered that Sessions had hired his own personal lawyer over the Russia investigations, who was also the same lawyer hired by Adelson and his anti-online gambling lobbying group.
As a consequence, Sessions gave in to pressure and was forced to recuse himself back in June, shortly after the Bloomberg piece was published. Authority then passed over to Deputy Attorney General Rosenstein, who subsequently became the recipient of the letter sent by Feinstein and Graham.
Online gambling supporters are rightly unnerved by Rosenstein's record pertaining to gambling matters, as it was reported several months ago by the Offshore Gaming Association that the AG was behind some of the more serious charges leveled against online poker and gambling sites in recent years, including payment processing seizures of companies such as Neteller, and the closure of sites such as TruePoker on Blue Monday. Even though Rosenstein is a staunch believer of state rights, he also holds a lot of sway over Republican Congress members, and has used his influence to pursue and prosecute several online gambling companies.
RAWA Still a Threat
What this all essentially means is that RAWA is still a threat, despite Sessions having been recused from the issue because of his conflict of interest. Therefore, online poker proponents must continue to be vigilante and stay on top of the issue by reaching out to their Congressmen, with the PPA's website and social media listing contact options in order to help rally public support for online gaming. Otherwise, all types of online gambling, including poker, may be be threatened if Rosenstein ultimately decides to acquiesce to the fear mongering antics of Graham and Feinstein.